The European Commission and the Fundaciò Mies van der Rohe have revealed the list of 420 projects in the competition which commends European excellence in architecture. The projects are composed of 33% Sports, Government, and Commercial Structures, 27% Housing Proposals, 24 %Cultural Facilities, 11% Education and 5% Offices. The projects will be competing for the hefty sum of 60,000 euros, the highest prize in European architecture competitions.
We at Archilovers have compiled a list of some of the candidates we'd like you to check out from each nation, so sit back, relax, and enjoy the architecture:
Austria
The Teaching Center in Austria, by BUSarchitektur is more than a building. It's a learning platform that promotes spontaneous communication while offering classes and activities to the community.
Cyprus
The Leventis Art Gallery by Feilden Clegg Bradley Studios is inspired by traditional Cypriot architecture of local stone with small, shuttered openings which exclude the fierce heat in summer but open to allow the winter sun to penetrate.
Czech Republic
Lake Cabin by FAM Architekti provides an all year round retreat for the clients' sailing passion, with minimum typology and maximum visual connections to the lake and the surrounding pine forest.
France
Walking over water by Dietmar Feichtinger Architectes are 3 footbridges which continue the urban tissue and link the pier with the city.
FRAC Centre by Jakob + MacFarlane Architects, a 'new generation' of FRAC institutions that have already proved themselves as centres of cultural appeal.
Germany
The Museum for Architectural Drawings of the Tchoban Foundation by SPEECH is meant for placing and exposing the collections of Sergey Choban's Fund founded in 2009 for the purpose of architectural graphics art popularization as well as for interim exhibitions from different institutions including such famous as Sir John Soane's Museum in London or Art school in Paris.
Concert Hall Blaibach by Peter Haimerl Architektur represents the heart of the urban development to revitalize the new centre of Blaibach.
Greece
314 architecture studio studio designed Private House in Athens in order to give the sense of hovering over the water and sailing.
Hungary
HIDEG-HOUSE by Béres Architects is a wooden cabin which floats a few steps above the natural terrain.
FÖLDES & CO. ARCHITECTS LTD created Volcano Visitors which recalls a volcano by virtue of the raw materials, the homogeneous grey of the concrete, the lava inspired colour of the corten steel, and the flue-like arrangement of the space.
Ireland
The Waterford Medieval Museum by Waterford City Council Architects houses a magnificent collection of artifacts and hosts numerous public events.
Italy
Cantina Antinori by Archea Associati, Hydea s.r.l., and A&I progetti s.r.l. perfectly inserts itself into the extraoradinary context of Chianti.
Bulgari Winery by Alvisi Kirimoto + Partners contains spaces accessible to the public, spaces of production, and offices. It endeavors to reduce as much as possible its impact on the environment.
Poland
Museum of the History of the Polish Jews by Lahdelma & Mahlamäki was realized without unnecessary rhetoric, with simplicity and elegance.
Małopolska Garden of Arts by Ingarden & Ewý Architects is a cross between two institutions: the Juliusz Słowacki Theatre and the Malopolska Voivodeship Library.
Portugal
Torre De Palma Wine Hotel by João Mendes Ribeiro respects the architectural and morphological features of the built aggregate and its surrounding landscape.
White Wolf by AND-RÉ architecture is a series of buildings intimately related with the surrounding rich natural environment
Sweden
The design of Strömkajen Ferry Terminal by Marge Arkitekter places priority on maintaining free views of the palace from Stallgatan and Grevgränd and on highlighting the monumental edifices on Blasiholmen.
Aula Medica by Wingårdh Arkitektkontor AB is not only a tribute to science and education, but also a site for strong collective experiences
Finland
Kuopio City Theatre by ALA Architects is a solid, contemporary addition which continues and complements the old structure with equal quality and permanence.
House Riihi by the Office for Peripheral Architecture blends in with the surrounding nature through its shape and the materials used.
Denmark
Forfatterhuset Kindergarten by COBE is a new kindergarten composed of five small houses with a unique brick cladding and green roofs.
Kolding Campus, University of Southern Denmark by Henning Larsen Architects houses the courses in communications, design, culture and languages of the University of Southern Denmark.
Netherlands
The New Rijksmuseum by Cruz y Ortiz Arquitectos, Wilmotte & Associés S.A., and ADP Architecten fulfills all international conditions to house over 8.000 objects of art and history.
New Rotterdam Market Hall by MVRDV, Arno Coenen, and Iris Roskam is called "the 16th chappel of Rotterdam".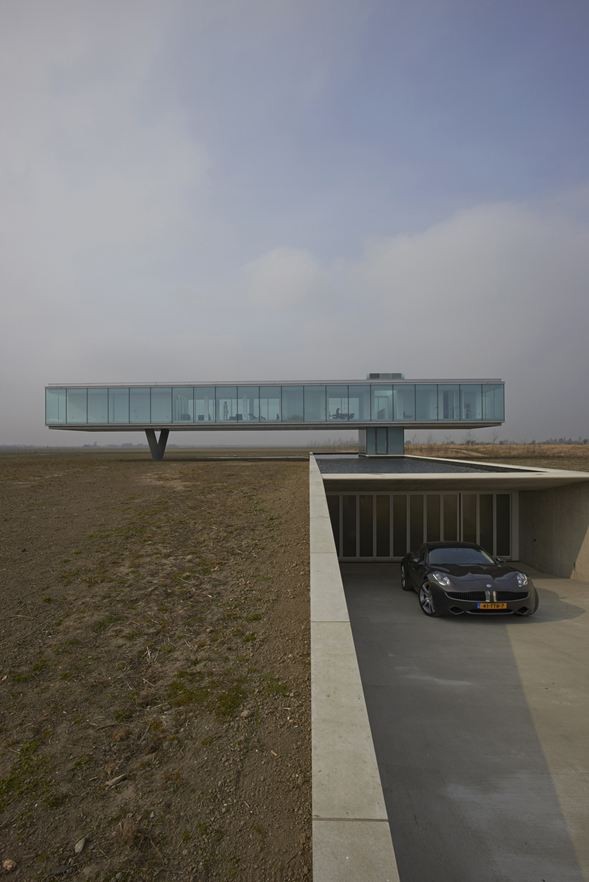 Villa Kogelhof by Paul de Ruiter Architects is entirely based on energy neutrality.
Rotterdam Centraal station by MVSA Architects and Benthem Crouwel Architects is one of the most important transport hubs in The Netherlands, with 110,000 passengers a day.
Norway
Community Church Knarvik by Reiulf Ramstad Arkitekter is carefully adapted to an existing hillside between built and natural environment.
Høse bridge by Rintala Eggertsson Architects connects the town to a vast wooden landscape which is used for recreation by the inhabitants of Sand.
UK
Peace Pavilion by Atelier Zündel Cristea provides an ideal contemporary space, offering a sense of tranquillity, beauty and an exceptional aesthetic value.
Manchester Metropolitan University by Feilden Clegg Bradley Studios includes a spectacular new entrance gallery, circulation and exhibition zone, and provides strong linkages both vertically and horizontally between the existing Chatham Tower and the new building.
Everyman Theatre by Haworth Tompkins makes use of the constrained topography of the site by arranging the public spaces around a series of half levels.
Library of Birmingham by Mecanoo Architecten transforms the square into one with three distinct realms: monumental, cultural and entertainment.
London House in the woods by Rado Iliev had the goal of updating and extending the existing house and turn it into a larger contemporary home.
Zaha Hadid Architects' London 2012 Aquatics Center, is inspired by the fluid geometries of water in motion.
Romania
Urban Spaces / Dogarilor Apartment Building by ADNBA tries to mediate between different sizes and densities, in a quite central neighborhood characterized by small streets, long, narrow plots and a puzzle of old and new buildings of all types and scales.
Slovenia
Compact Karst House by dekleva gregorič arhitekti is conceived as monolithic volume with two inserted wooden volumes connected with interim landing.
Spain
House of the Infinite. VT House by Alberto Campo Baeza is an infinite plane facing the infinite sea.
The design of the Fine Arts Museum by Estudio Arquitectura Hago overflows the physical limits of the building and turns the proposed spaces into real stars of the urban environment.
Turkey
Workinn Hotel by Cinici Architects is the first hip hotel in Gebze.
Kaplankaya Cluster by OAB - Office of Architecture in Barcelona - is constructed in a style in keeping with the fortresses, citadels, churches and monasteries that have characterized the landscape of the Mediterranean.
Which one will triumpth? Stay tuned for the winners!