Decorating a spare wall is always a question of taste. I've put together a list of ten tips to customize your home, from living spaces to dining rooms, from home offices to bedrooms.
Which solution is your favourite?
Art and frame collages. Art and photo walls make an incredible visual impact and enhance your home's character. Whether you arrange just a small photo grouping, or dedicate an entire room to a favorite collection, just remember symmetry, balance and the pairing of like-items.
When Color Meets Calm by Maayan Zusman Interior Design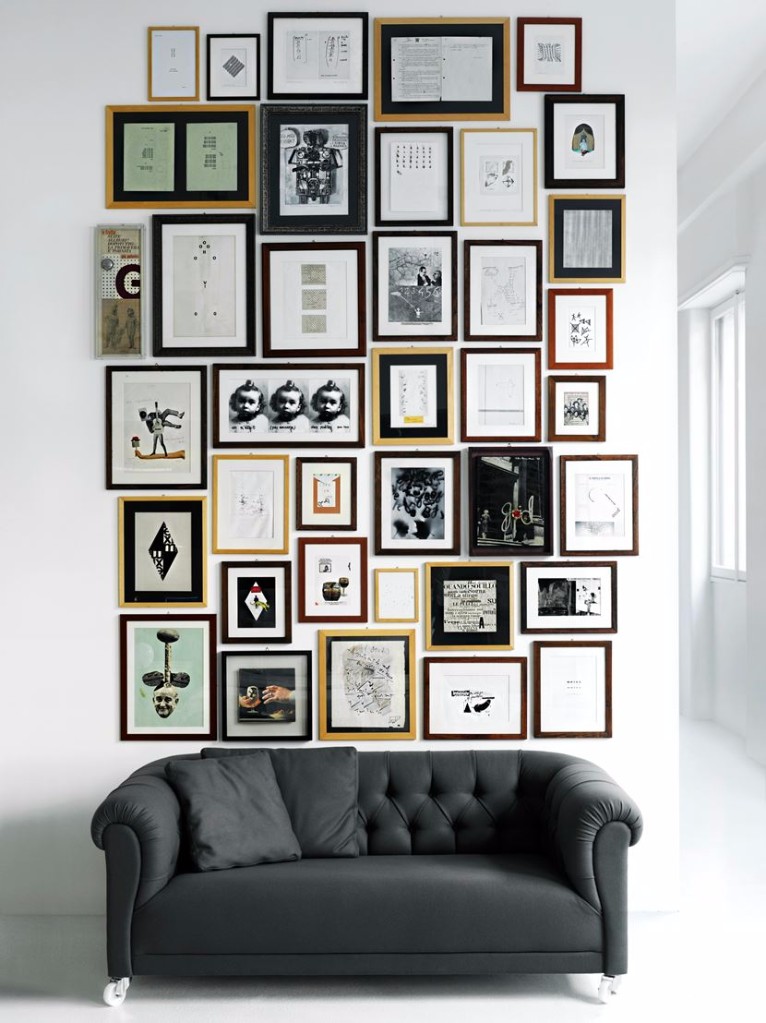 DePadova Store by Piero Lissoni
EBEN HOUSE by Kevin O'Shea Designs
Art shelves. A floating shelf can give you a space for an ever-changing display of art and mementos without having to add a nail for each individual piece.
Mountain View Townhouse by Studio Revolution
Los Peñascales Housing Development by ÁBATON Arquitectura
Bookcases. A beautiful bookshelf is recommend for this problem. For example RANDOM Collection by MDF Italia is a system that can create a very strong impact in your living room. A bookcase made of 6 mm thick medium-density wood fibreboards, microgoffered lacquer in white. Back of melamine - coated board (thickness 10 mm). Shelves at various standard heights, fit into the backs through concealed slots.
Penthouse 03 by Ramūnas Manikas
Lamps. You can play with lighting design too. ORIGAMI, a polycarbonate wall lamp designed for Vibia by Ramón Esteve. The solution holds up pictures, murals, photos, shelves. Lighting elements can perform this personalization function: with just two pieces, interior designers can create infinite compositions.
SALT HOUSE INN by Kevin O'Shea Designs
Headboards. In the bedroom you can intervene above the headboard, that looks like a white canvas. Free-standing headboards or object collages can be added to your bed and reattached to an upgraded model down the road.
Appartamento Piola by alessandra galbiati
Wallpaper. With panoramic wallpaper NO PLAN, made by Wall&decò macro-subjects with a great visual effect. Great flexibility permits ample and substantial personalisation: from the re-sizing and movement of the subjects right up to backdrop and decorative element colour changes.
Game Design Studio by SHEEP + STONE
Box shelves. "Shelving systems have a tendency to achieve one concern but never both. We decided to dimension shelving units based on the generic measurements of things to store and display while allowing for them to be combined according to specific needs and desires? The result can be at times a random stack of boxes or a coordinated grid of efficient storage or both!".
With these words JDS Architects described STACKED | Pensile designed for MUUTO, another flexible solution for the office, but not only.
Conservatorium Hotel by Piero Lissoni
Sofas. A simple gray or neutral sofa, such as the CHEMISE | Divano made by Living Divani, is the best long-term investment. Especially if the manufacturer offers interchangeable covers for the sofa.
Apt GP by MPT3 architetti Montalbò_Pellegrini_ Tanese
Ceramic tiles. With the 3D effect of the texture, ceramic can inspire your ideas for a wall. DECHIRER (LA SUITE) NET CENERE, designed by Patricia Urquiola for MUTINA, is a range of large-sized, unglazed porcelain stoneware tiles, where patterns, which look like layers of memory alternating on the surface, creating surprising effects of light and shadow.
You can choose a range of solutions by alternating the composition with plain and decorated patterns, with sharp-edged slabs and patchwork designs. It is perfect for each kind of space, from living to the kitchen, to the bathroom.
TLV Ben Gurion - Weisel apartment by Dori Interior Design


Are your ideas clearer now?