Fiction Factory, a company of creative makers from Amsterdam, has created a line of tiny houses made from cardboard that can be assembled in one day.
Called Wikkelhouse, a number of campsites across Europe have already installed the sustainable units and they are available for purchase in France, Germany, the United Kingdom, Denmark, Belgium, Luxembourg and the Netherlands now.
© Yvonne Witte / Wikkelhouse.
© Yvonne Witte / Wikkelhouse.
Wikkelhouse is a flexible concept. It can be expanded with a module containing toilet, bathroom and kitchen facilities. Individual standard segments can be simply interlinked with hidden connections to form a (holiday) home or office.
In general, due to its light-weight construction, no foundation is needed.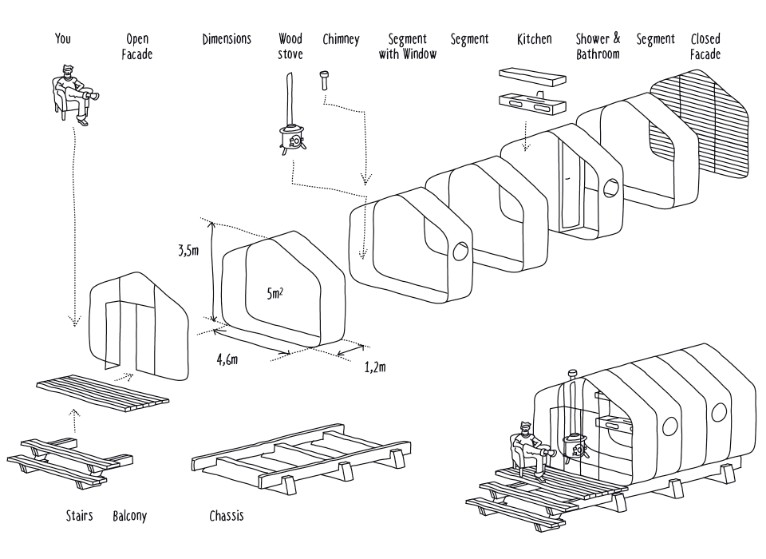 The base of Wikkelhouse is virgin fiber cardboard, which is made from Scandinavian trees. This top-quality cardboard is wrapped around a unique patented house-shaped mould, while environmentally friendly glue is added. This results in a robust sandwich structure with optimal insulation qualities and structural strength.
© Yvonne Witte / Wikkelhouse.
After wrapping the cardboard each segment is covered with a waterproof but breathable foil. This foil makes sure the cardboard doesn't get drenched during rain while any moisture in the cardboard can always go out. The outside panelling of Wikkelhouse is made of stained pine wood and protects the foil against UV/Sunlight.
© Yvonne Witte / Wikkelhouse.
© Yvonne Witte / Wikkelhouse.
Wikkelhouse meets temporary and permanent accommodation standards. It is three times more sustainable than traditional construction with an estimated lifespan of at least 50 years. Recyclable materials and the possibility of reusing modules, guarantees its sustainability.
Wikkelhouse from Wikkelhouse on Vimeo.
© Ph. courtesy of Wikkelhouse and Yvonne Witte