If you're in the mood for a leisurely stroll through a quiet, contemplative museum space, do not visit 'Get Active', a temporary exhibition at The Olympic Museum's 'Galerie'. Created to inspire not-so-active kids, it teaches them about the importance of physical activity through a fun, interactive pathway imagined by Atelier Oï. The goal of the exhibit? To fight against the increasingly troubling issue of childhood obesity and show kids that exercising can be fun!
Inside the space, an imaginary apartment full of fun activities challenges the visitor to use various mental and physical skills. Each room of the house hosts a different physical challenge, and the furniture acts as a kind of obstacle course: the kitchen table becomes a ping-pong table, the bed is transformed into a musical instrument, a computer that's powered by pedaling, and more!
The black and white outline graphics which make up the walls were produced by Atelier Oï as a nod to Roy Liechtenstein's pop art and to give the visitors the feeling of being inside a comic book. The activities to be performed are delineated in yellow. Athlete profiles and quotes adorn the walls, connecting each exercise with its sporting world context.
This totally novel context gets visitors moving while having fun in an everyday environment that's accessible to everyone.
The exhibition is open from July 6th to November 29th and is the perfect way to try a new kind of museum experience while getting a great work out!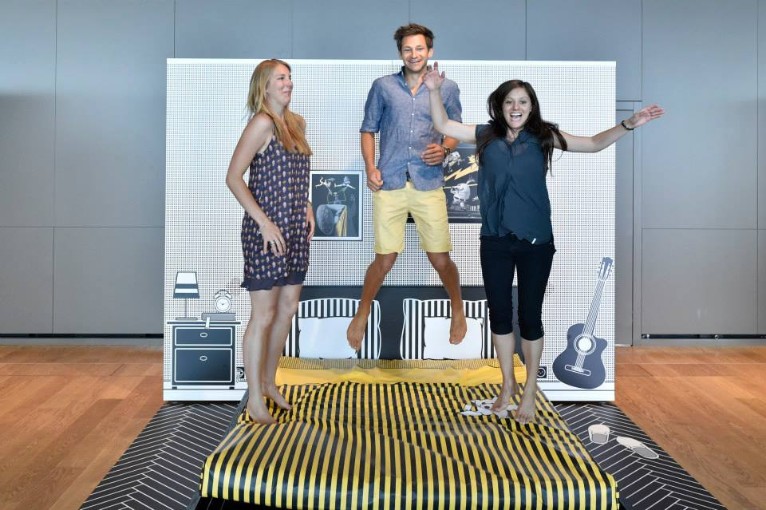 For more information visit: http://www.olympic.org/