The exhibition, 'HOT TO COLD: an odyssey of architectural adaptation' , travels from the hottest to the coldest parts of our planet and explores how BIG - Bjarke Ingels Group ´s designs are shaped by their cultural and climatic contexts. More than 60 architectural models, mock-ups and prototypes are suspended at the second-floor balconies of the museum's historic Great Hall, turning the architecture of the National Building Museum (Washington) into the architecture of the exhibition.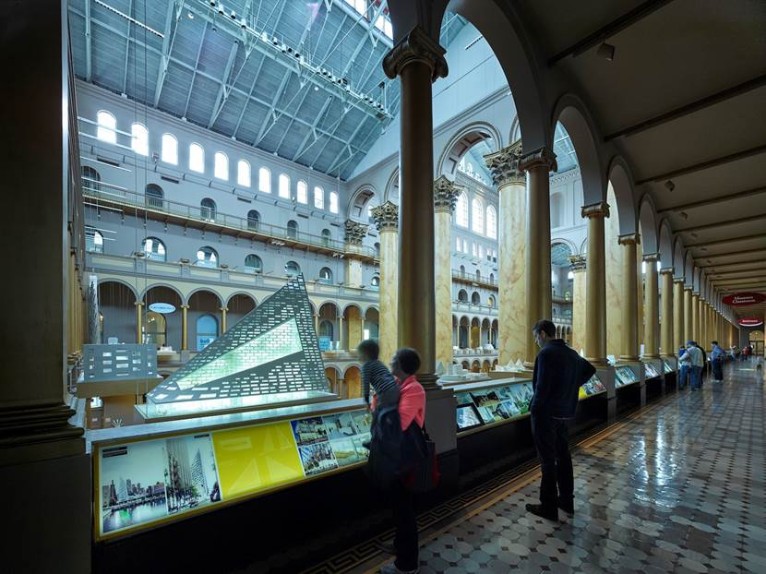 "Architecture never happens in the clinical conditions of a lab. It is always responding to a series of existing conditions – the context, the culture, the landscape, the climate. Our climate is the one thing we can't escape – the one condition we always have to respond to. HOT TO COLD is conceived as a colorful exploration of how architecture evolves in response to its context and climate and as an artistic contemplation of how life in return reacts to the framework created by the architecture. I can't imagine a greater venue than the National Building Museum for this journey, looking back at our work and massive transformation over the last six years from both sides of the Atlantic", says Bjarke Ingels .
HOT TO COLD encompasses 60 of BIG's recent projects of which 20 are premiered for the first time, captured by Iwan Baan ´s masterful photography. The exhibition also features films that describe life as it occurs within and around BIG's buildings in a gallery on the museum's second floor.
Films by Ila Bêka and Louise Lemoine, Kaspar Astrup Schroder, WAAITT and Squint/Opera document the life that emerges once the cranes have left and the buildings are complete.
Curator Susan Piedmont-Palladino says that BIG extended its singular design sensibility to the creation of this exhibition: "What's so special about HOT TO COLD is that BIG has perceived the National Building Museum more as a site for a project, rather than as a venue for an exhibition. That means that the sunlight, the sounds, and the sights of the Great Hall will all be part of the context of the display, just as they are for a building in the city. BIG has a very distinctive voice, and our visitors will have a very direct experience, as if the architect is talking, telling stories directly to them."
To find out more: http://www.nbm.org/