STREET ART _ Forget the images of a grey and polluted Santiago, 100architects have brought back the color in one of the most lively neighborhood of the metropolis.
Huellas Artes interprets the human footprint as an artistic trail in Santiago city.
It is a cultural engine fueled by the passing flow of citizens and visitors from around the Bellas Artes metro station.
The Urban Footprint is a non-built configuration that creates and defines an environment without restrain or enclosing it. It is an architectural intervention that proposes a new use scene in a fully unclosed outdoor space.
The project is developed over the underground metro station, using its ground area, which currently operates as a non-functional plaza. The main idea is to revitalize the site as a catalyst of activities related to the constant flow of people that the station attracts. Thus, the project uses the entire land surface, highlighting the main circulations occurring.

It establishes a series of functions encouraging social relationships among those who circulate through the place, evidencing the possibilities of spatial transformation by colors, words, selfie photoghaphs and lines.

"The uses and activities proposed are a selfie Wall, where passersby have a playful approach to a large wall, an artist spot, where diverse Street artists and musicians express themselves freely, and a meeting point, which allows the recognition from the people that come out of the metro station" said the architects.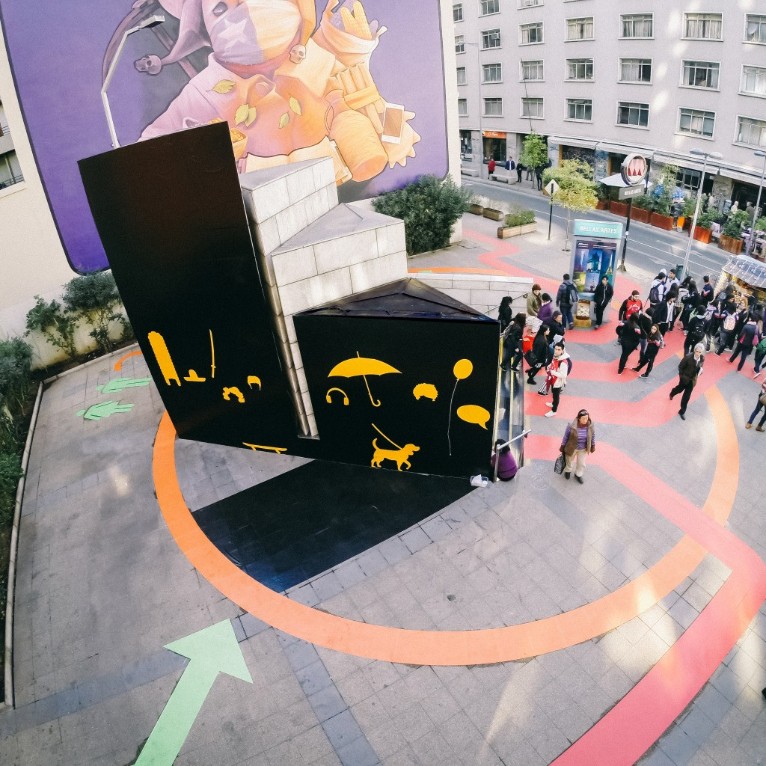 The selfies wall it is a revealing example from where more than 1000 photos in less than 2 days where uploaded in the social networks for virtual interaction. It became a shortly yet significant landmark of the virtual.
The project had an ephemeral spirit, as it lasted 3 days, starting with the overnight transformation of the plaza. In the first morning the impact was absolutely striking when the users noticed that something had drastically transformed the everyday and everybody's space.
A colorful playful and renewed image invited to experience this new space from an unexplored perspective, without altering its structure but with multiple new social possibilities. The ephemeral nature of the work enhances the excitement of having lived that particular experience and encourages greater attention to circulation spaces that we use daily and on which we rarely stop to appreciate its qualities and generate a civic sense. It is an invitation to discover these places where we usually believe there is nothing more.


Photo credit Subtilography