Would you spend 95 million for a Penthouse in the heart of NYC?
Located on Park Avenue between 56th and 57th Streets, in midtown Manhattan in New York City, 432 Park Avenue will be the tallest residential tower in the western hemisphere, offering new luxury condos in the sky.
432 Park Avenue is a supertall residential project by CIM Group. The tower has a footprint of approximately 3,100 m2. The building was topped out on October 10, 2014 and the rooftop of 432 Park Avenue is the highest in the city, surpassing that of One World Trade Center.
The construction began in 2012 and is scheduled to complete in 2015.
Watch the video uploaded by The xNYr:
The building required the demolition of the 495-room Drake Hotel built in 1926. In 2006. the hotel was sold for $440 million to developer Harry Macklowe, and the hotel was demolished the year afterward. The site became one of New York's most valuable development sites due to its location.
"It's almost like the Mona Lisa," Harry B. Macklowe, the developer building the $1.3 billion tower, said at a topping-out ceremony on Friday for 1,500 construction workers. "Except instead of it looking at you, you're looking at it wherever you are. You can't escape it."
Designed by Rafael Viñoly Architects PC around what is described as "the purest geometric form: the square," the tower is designed to have eighty-four 93-foot-square (28 m) stories, each with six 100-square-foot (9.3 m2) windows per face. The tower's condominium units will range from a 351-square-foot (32.6 m2) studio to a six-bedroom, seven-bath penthouse with a library, already under agreement for $95 million.
The building's amenities will include 12-foot (3.7 m) high ceilings, golf training facilities, and private dining and screening rooms.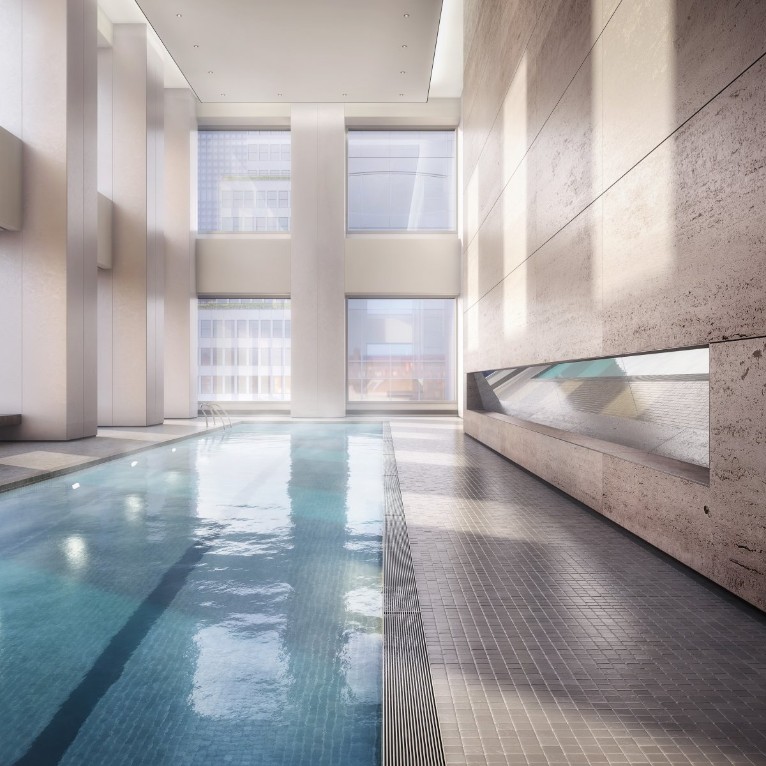 All images courtesy of DBOX for CIM Group/Macklowe Properties