IIDEX Woodshop is an event organised by the City of Toronto, iidexcanada, and ideaceous.com: a competition to choose 15 innovative wood prototypes that utilize Toronto's untapped ash wood resource.
The fifteen winning designs will be exhibited on the trade show floor at IIDEXCanada on December 3-4, 2014 at the Metro Toronto Convention Centre North, they will be exhibited again by The City of Toronto and IIDEXCanada in the Rotunda of Toronto City Hall and a third time at a select location in the City of Toronto within 6 months of IIDEXCanada. After that they will be featured in a press release sent out to key members of the media and posted to the IIDEXCanada website. Selected designs will also have the opportunity to be featured and available for sale on ideacious.com
To enter, you must send in your design along with a 150-word description by Friday, August 1, 2014. To submit an entry, fill in the form at the bottom of this page and send up to 5 images, plus a 150-word description of your design.
Here is the timeline for submissions:
August 1 - Submissions due via the ideacious website including 5 images and a 300 word description.
October 3 - Prototypes due including process documentation, retail price, name of piece, and lead time for production.
November 4 - Final Object due and submit professional photography for quality review and pre-show promotion.
Dec 1+2 - Deliver Designers will deliver their object in a reusable wooden crate to IIDEXCanada for the next 6 months of exhibitions.
Dec 3+4 - IIDEXCanada Exposition The IIDEXCanada exposition will run from Wednesday December 3 to Thursday December 4, 2014.
All designs must be made primarily of ash (75% minimum) and 25% other native woods.
Finished pieces must be no larger than a 6'x6'x6' (1.83m) with preference being given to products no larger than 3'x3'x3' (0.91m).
Designers will be responsible for producing their own pieces, whether they build it or hire someone else to.
Last year's submissions included Kôna, the chaise longue pictured above by Dystil, a new-thinking multi-disciplinary design firm headed by Miles Keller a designer with 20 years of experience.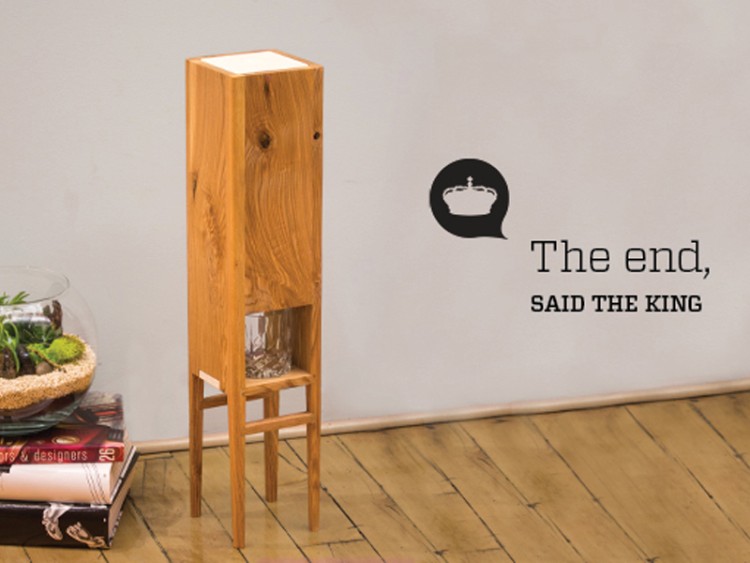 Other submissions were selected by the website ideacious, a website which brings together creators and buyers. The buyers pledge to buy the product by leaving a small deposit and once a hundred items have been pledged the item is produced and the pledgers pay the remaining amount before receiving the product.
The pledgers also become shareholders for the next 10 years, the more the product sells they more they earn as shareholders. Once the first run of the items has been produced, you can still buy but you are not a shareholder.
One of these items was The End table by Said the King – it is a wooden cabinet holding one bottle and a glass – your best bottle (of wine, whisky or even beer) and a glass for the END!
Another winner was the Tawt Blanket box by urbanproduct – a Blanket Box with solid Ash construction with steel hardware and custom aluminum foot.