The image of Notre-Dame cathedral in the throes of a ravaging fire in the evening of Monday April 15th will be etched on the memory of us all for evermore.
Shortly after the fire which destroyed the cathedral's famous spire, French Prime Minister Edouard Philippe announced that an international architecture competition would be organized for the spire's reconstruction expressing the wish that the future project should be "adapted to issues of our time".
With the Notre Dame design competition underway, last week, designers began proposing ideas for the restoration of Notre-Dame.
Here are seven of the most original:
1. An educational and inclusive greenhouse on the roof - Studio NAB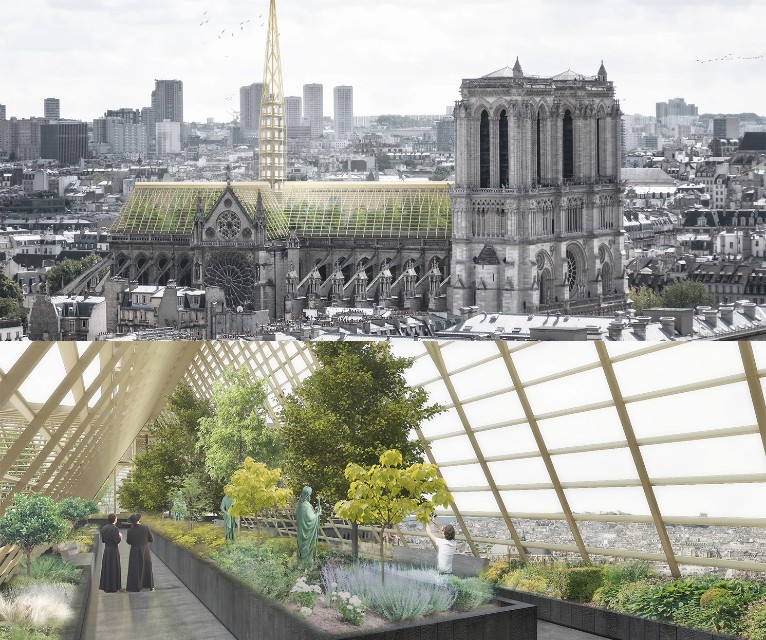 © Image courtesy of Studio NAB
2. A crystal spiral symbol of the fragility of history and spirituality - Studio Fuksas
Restoration of Notre Dame de Paris
© Image courtesy of Studio Fuksas
3. A glass roof and a new spire made from crystal glass and stainless steel - Norman Foster
© Image courtesy of The Times
4. A lightweight crown that connect heaven with earth - Vizumatelier
© Image courtesy of Vizumatelier
5. A eclectic mix of arches and balls wrapped around a central staircase - Kiss The Architect
© Image courtesy of Kiss The Architect
6. A spire made from bright spotlights - Anthony Séjourné
© Image courtesy of Anthony Séjourné
7. A monumental permanent flame covered with golden leaves - Mathieu Lehanneur
© Image courtesy of Mathieu Lehanneur
--------
© Image courtesy of the architects and designers