Museum of the Moon is a touring artwork by UK artist Luke Jerram.
Measuring seven metres in diameter, the moon features 120dpi detailed NASA imagery of the lunar surface. At an approximate scale of 1:500,000, each centimetre of the internally lit spherical sculpture represents 5km of the moon's surface.
The massive 21meter wide, high resolution image used to create the moon artwork, was created by the Astrogeology Science Centre in the USA. The imagery was taken by a NASA satellite carrying the Lunar Reconnaissance Orbiter Camera launched in 2010.


Over its lifetime, the Museum of the Moon will be presented in a number of different ways both indoors and outdoors, so altering the experience and interpretation of the artwork. As it travels from place to place, it will gather new musical compositions and an ongoing collection of personal responses, stories and mythologies, as well as highlighting the latest moon science.
The installation is a fusion of lunar imagery, moonlight and surround sound composition created by BAFTA and Ivor Novello award winning composer Dan Jones. Each venue also programmes their own series lunar inspired events beneath the moon.
From the beginning of human history, the moon has acted as a 'cultural mirror' to our beliefs, understanding and ways of seeing. Over the centuries, the moon has been interpreted as a god and as a planet. It has been used as a timekeeper, calendar and to aid nighttime navigation. Throughout history the moon has inspired artists, poets, scientists, writers and musicians the world over. The ethereal blue light cast by a full moon, the delicate crescent following the setting sun, or the mysterious dark side of the moon has evoked passion and exploration. Different cultures around the world have their own historical, cultural, scientific and religious relationships to the moon.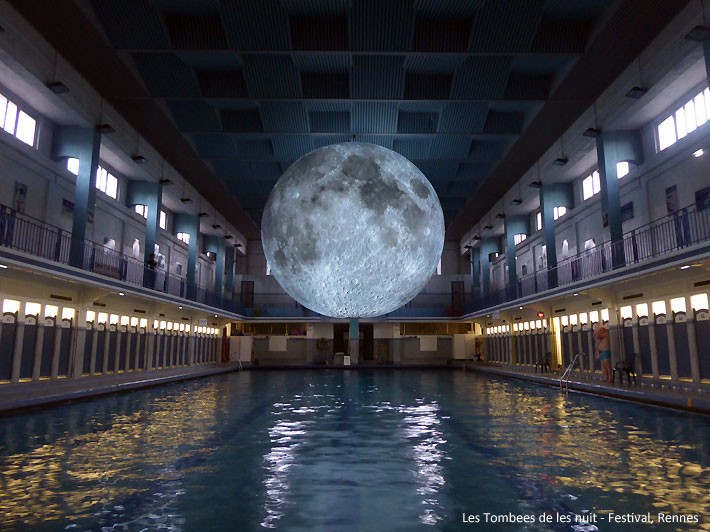 Museum of the Moon allows us to observe and contemplate cultural similarities and differences around the world, and consider the latest moon science. Depending on where the artwork is presented, its meaning and interpretation will shift. Read more in Research. Through local research at each location of the artwork, new stories and meanings will be collected and compared from one presentation to the next.


Museum of the Moon will next be presented in:
- Beijing Olympic Water Cube – National Aquatics Center, China 7 July – 7 October
- Muttart Conservatory, Edmonton, Canada, 30 June – 16 September
- Cirk Aalast, Belgium, 24th August – 9th September
- skyranMOON, Stromness, Orkney, 6 – 16 September
- British Science Festival, Hull, UK, 11 – 13 September
- Llawn06, Llandudno, Wales, 14 – 16 September
- Bell Square, London, 22 September
- Scène nationale de Cergy, France, 22 – 30 September
- Gravity Fields Festival, Grantham, UK, 26 – 30 September
- Vivacity, Peterborough, UK, 4 – 15 October
- Derriere le Hublot, France, 11 – 13 October
- Lightpool Festival, Blackpool, UK, 18 – 28 October
- Diwali, Leicester, UK, 25 October – 9 November
- Essen Light Festival, Germany, 26 October – 4 November
- Derry Halloween, UK, 26 October – 4 November
- Let's Gro, Holland, 31 October – 3 November
- Light Night, Doncaster, UK, 16 – 25 November
- Lumo Light Festival, Finland, 23 – 25 November
- Scienceworks, Melbourne, Australia, 1 December 2018 – 28th April 2019
(There are several moons touring simultaneously)
Background
Luke Jerram's multidisciplinary practice involves the creation of sculptures, installations and live arts projects. Living in the UK but working internationally for 20 years, Jerram has created a number of extraordinary art projects which have excited and inspired people around the globe. Find out more through his main website here.



The Museum of the Moon was inspired by living in Bristol and noticing the huge tidal variation as he cycled over the Avon Cut each day. His moon research also led to his artwork Tide.
#MuseumOfTheMoon

@lukejerram
www.my-moon.org