Along the banks of the lake and the promenade of Verbania, we can find a refined villa designed by the architect Aldo Rossi.
This prestigious property is now available for €7,000,000 (that's $8,089,550 USD), through Italy Sotheby's International Realty.
Unique in its splendour, it is characterized by an access to the Lake Maggiore via the private dock and the beach; the beautiful view of the lake and the Borromean islands, which can be seen from every window of the main façade of the villa.
The park, with its flowers and plants, gives the villa the typical charm of this place. The garden comprises a large sun terrace overlooking the dock, with a perfect sun exposure, which is ideal during the summer season.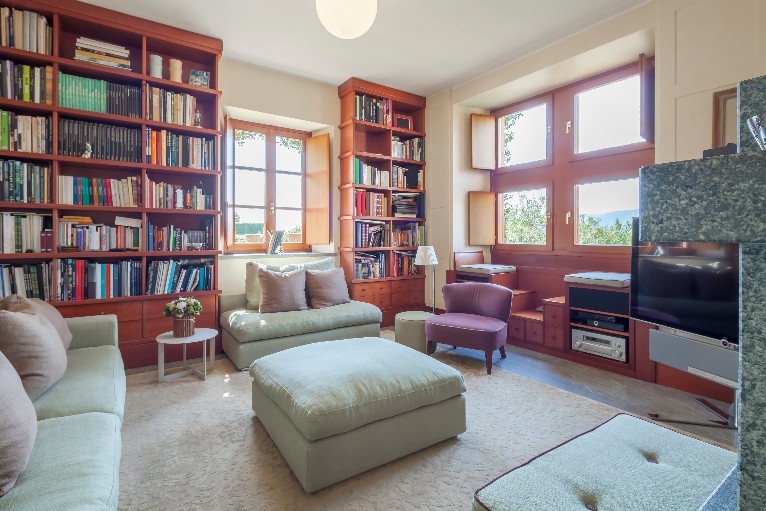 The architectural features by Aldo Rossi can be found both in exteriors and interiors, such as the use of materials and colours, whose chromaticity are repeated in all the rooms: the marble in the bathrooms and the granite and terracotta tiles on the terraces give the villa its uniqueness.
Inside, the villa is spread over three levels, where each space is enhanced by furniture selected and customized by the architect.
On the first floor there is a granite entrance leading to the living room with central fireplace, a dining room, a kitchen, and a terrace overlooking the lake.
On the second floor, accessible by a staircase composed of small local stones, we can find the master bedroom with terrace, a private marble bathroom, and a wardrobe.
On the top floor there are three bedrooms, a study and a bathroom.
On the ground floor, with direct access to the garden, there is a lounge, a bathroom, a cellar and a garage.
Stats
Price: € 7.000.000 ($8,089,550 USD)
Bedrooms: 4
Bathrooms: 6
M2: 550
Hectares: 0,25
--------
Contact: Italy Sotheby's International Realty
All photos by: © Italy Sotheby's International Realty