After almost 100 years, original typography sketches and unpublished letter fragments from the legendary Bauhaus school of design were rediscovered and are now ready to inspire a new generation of designers.



Five beautiful alphabets have been meticulously completed and digitized by Adobe with an international team of students guided by renowned type designer Erik Spiekermann.

Now for the first time, Adobe is making two fonts available exclusively to Creative Cloud members, with more to come.

"Joschmi" has been re-created by Flavia Zimbardi, a type designer and visual artist from Rio de Janeiro, based in New York.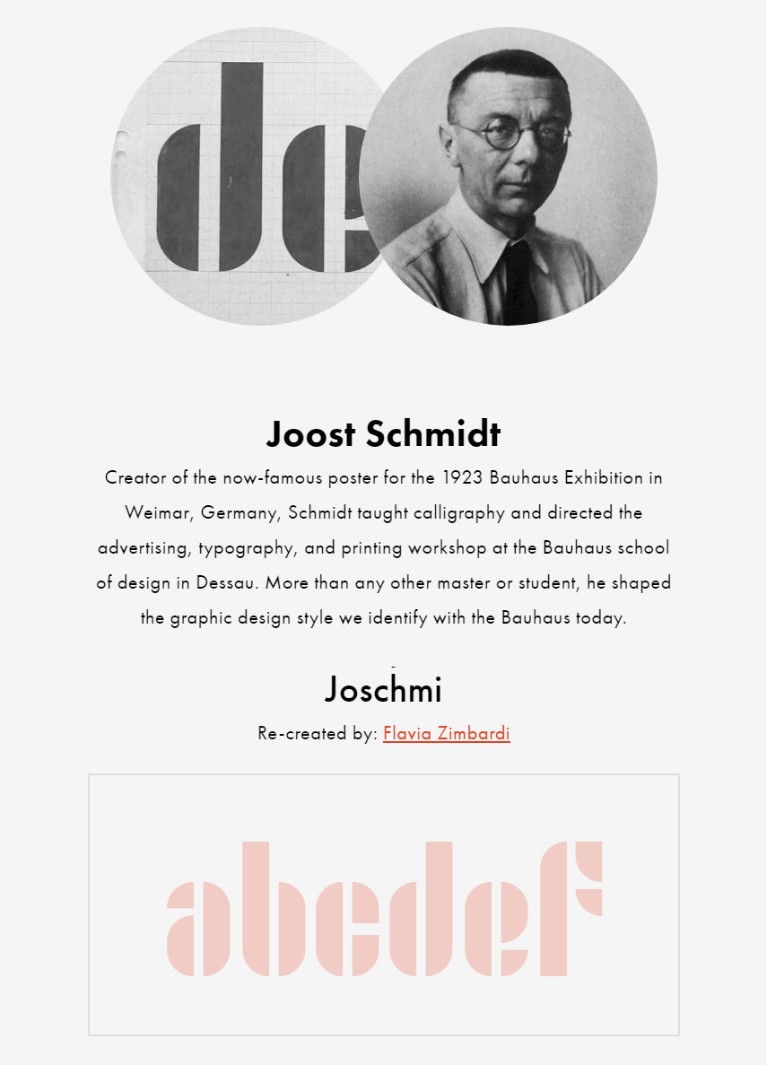 "Xants" has been re-created by Luca Pellegrini, graphic and type designer now based in Lausanne.
You can get them here > Hidden Treasure

The birthplace of modern design
The Bauhaus was founded in 1919 in Weimar, Germany by architect Walter Gropius. Literally translated as "building house," the Bauhaus style was born out of the challenge of designing basic necessities like buildings, tables, and chairs, with the core idea that form follows function.
In 1925 the school moved to the industrial city of Dessau, where its ideal of creating a new unity of crafts, art, and technology flourished. Many now-iconic designers called the Bauhaus home, and their legacy of industrial design and functional yet striking typography lives on today.
The vanguard of the avant-garde
By marrying industrial technology and fine art, the Bauhaus masters and their students designed functional objects that could be mass-produced with modern machinery. Their concrete and steel buildings, minimalist furniture, and bold lettering for advertising posters continue to inspire creatives in all fields of art and design.
Typography that leaves a lasting imprint
Typography from Bauhaus Dessau is instantly recognizable. Simple geometric forms, unadorned with serifs. Vibrant, expressive colors. Balanced layouts that convey a clear and direct message. Some of the world's most celebrated ad layouts, political posters, album covers, and logo designs owe their power to lettering designs created at Bauhaus Dessau.
Adobe'll soon be releasing three more complete font sets from Bauhaus Dessau designs. The next one will be Carl Marx.


Visit the Hidden Treasures campaign page for the official video and for more history about the project and design challenges.