Constructed in 1949 by the husband and wife duo of Charles & Ray Eames to serve as their home and studio and also known as Case Study House No. 8 (as part of the legendary "case study houses" project by John Entenza and his famous magazine Arts & Architecture), The Eames House is a landmark of mid-20th century modern Architecture.
The House, designated a National Historic Landmark in 2006, is located at 203 North Chautauqua Boulevard in the Pacific Palisades neighborhood of Los Angeles and it's now a historic house Museum maintained by the Eames Foundation.
Eames House Interior | Source:© Herman Miller
Charles and Ray designed a house specifically to meet their needs, but they were those universal needs that we all share as humans.
They believed in the honest use of materials and straightforward connections.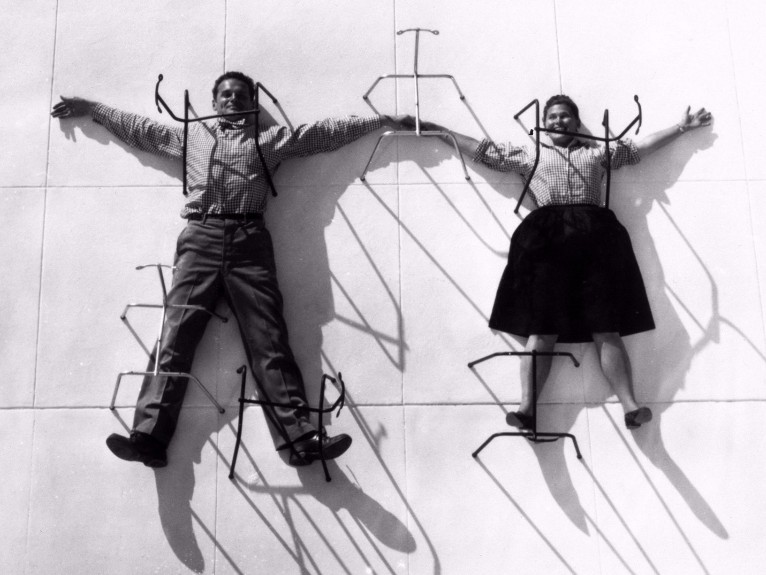 Charles and Ray Eames posing with metal chair bases | Source © Eames Office LLC
Charles and Ray Eames | Source: © Eames Office
The design was first sketched out by Charles Eames with fellow architect Eero Saarinen in 1945 as a raised steel and glass box projecting out of the slope and spanning the entrance drive before cantilevering dramatically over the front yard. The structure was to be constructed entirely from "off-the-shelf" parts available from steel fabricator catalogs.
Immediately after the war, though, these parts were in very short supply.
After a period of intense collaboration between Charles and Ray, the scheme was radically changed to sit more quietly in the land and avoid impinging upon the pleasant meadow that fronted the house.
Eames House Exterior
The Eames House consists of two glass and steel rectangular boxes: one is a residence; one, a working studio. They are nestled into a hillside, backed by an eight foot tall by 200 foot long concrete retaining wall.
The structures are aligned along a central axis with a court on the ocean side of the House, a court between the two structures, and a parking / utility spot on the Studio far side. At 17 feet tall, each has a mezzanine balcony overlooking a large central room. Public and private spaces are naturally defined by what is easily visible.
The facades are essentially black-painted grids (consisting of eight 7.5 foot bays for the House and five for the Studio), with different-sized inserts of glass (clear, translucent, or wired), grey cemestos panels (both painted and natural), stucco (off-white, black, blue, and orange/red), aluminum (silver or painted) and specially-treated panels (gold-leafed or with a photographic panel).
Eames House Exterior | Source:© 2016 urbanbacklog
It was a home filled with gifts from friends, family and colleagues. The way the Eameses lived their life in their home echoed how they lived their life at work.
Charles and Ray Eames in the house | Source: © Eames Office
Eames House Interior | Source: © Eames Office
Eames House Interior | Source: © Eames Office
-----------
Cover photo: Eames House Interior | Source: © Eames Office