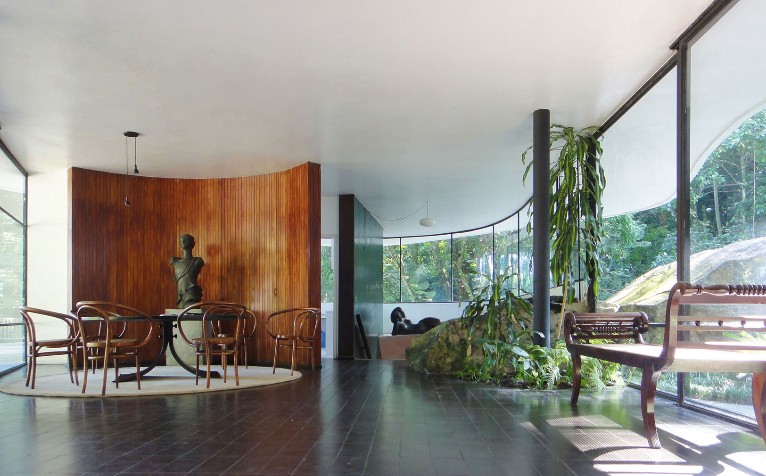 What can you discover about a creative person by seeing where they lived and worked?
An architect's home, for example, is an experimental canvas, a place where they can explore new ideas without risking a client's wrath.
Many of the 20th century's biggest names have had their homes preserved in perpetuity.
In this quick tour we take a look at some architects' emblematic homes around the world, places in which either design or furniture celebrate the own style of the architect, now recognized by scholars and museums worldwide as significant design movements.
- Das Canoas House, Oscar Niemeyer, Rio de Janeiro (1951)
Oscar Niemeyer's transparent Das Canoas house was designed in 1951, and blends elements of organic and minimalist architecture.
It was designed to sit in shadow so there would be no need for curtains, and its sinuous exterior is surrounded by dense vegetation – which Niemeyer hoped would appear as part of his design – and topped by a curving flat roof. The house has been built into the slope of a hill which offers views across the nearby bay, and incorporates existing boulders into its interior, which Niemeyer designed in partnership with his daughter.
Inside Das Canoas House
Visit Das Canoas House
Tours are by appointment
More information here
- Le Corbusier's Cabanon, Roquebrune-Cap-Martin, Monaco (1952)
For 18 years Charles-Édouard Jeanneret Le Corbusier spent every August at his smallest building on the World Heritage List, built in 1951 in Roquebrune-Cap-Martin – an enclave between Monaco and Manton on the south coast.
Le Corbusier loved the Mediterranean, the light, the landscapes where great civilizations had emerged, and the rural architecture.The Cabanon bears witness to these ancient roots.
Although the Cabanon resembles a traditional Canadian log cabin from the outside, it was carefully designed along modular principles developed by Le Corbusier.
Cabanon de Le Corbusier à Roquebrune-Cap-Martin (Alpes-Maritimes), 1951 - © FLC/ADAGP/Oliver Martin-Gambier
Le Corbusier at work in his Cabanon
Visit the Cabanon:
Tours are by prior booking only, booking is compulsory for all visitors.
More information here
- Casa de Vidro by Lina Bo Bardi, São Paulo, Brazil (1951)
Set in the south of São Paulo alongside the Atlantic forest, Casa de Vidro by Lina Bo Bardi was one of the first houses in the Morumbi neighbourhood.
Built into the steep terrain, the building is lifted up on stilts that suspend it amid the greenery. Influences of Italian Rationalism can be read in the industrial materials and simple repeated forms, but the home also gives nods to the Brazilian rural vernacular in its two squat, solid volumes that support the glass structure from the back.
The architect lived in Casa de Vidro much of her life, and the building now houses her art collection.
Casa de Vidro Ph. © Lucas Medeiros
Bardi and Lina. Photo by ©Marcelo Ferraz, 1991. Courtesy of Instituto Lina Bo e P.M. Bardi archive.
Visit Casa de Vidro:
Casa de Vidro is open to the public twice a week with prior booking.
More information here
- Albert Frey House II, Palm Springs, CA, (1963-64)
The second of the Swiss-American architect's homes in California's Palm Springs, this modest glass-walled house is punctured by a jutting boulder that divides the living and sleeping areas. A leading proponent of desert Modernism, Frey incorporated the rock as a way of getting round an excavation ban on the site. The 800 sq ft residence, which he completed in 1964, features built-in furniture designed by Frey – including a record player – and exceptional views from its mountainside perch.
Visit Albert Frey House II:
Frey House is open to the public with prior booking.
More informations here
- Luis Barragán House and Studio, Mexico City (1948)
Casa Luis Barragán represents one of the most internationally transcendent works of contemporary architecture, as acknowledged by the UNESCO when included in their 2004 World Heritage list.
It is the only individual property in Latin America to have achieved such a distinct honor, being — as stated by the UNESCO itself — a master piece in the development of the modern movement that merges traditional and vernacular elements, as well as diverse philosophical and artistic currents throughout time, into a new synthesis.
This museum, which encloses its creator's residency and studio, is property of the Government of the State of Jalisco and the Fundación de Arquitectura Tapatía Luis Barragán.
Visit Luis Barragán House and Studio:
Advance reservations are highly recommended as tours often sell out.
More informations here
- Gropius House, Lincoln, United States (1938)
The Gropius House was the residence of Walter Gropius and his family during his tenure at Harvard University during the mid 1900s.
Completed in 1938, the Gropius House was the first commissioned project in the United States for the famed architect. Located in Lincon, Massachusetts the house is a hybrid of traditional New England aesthetic and the modernist teachings of the Bauhaus.
Visit Gropius House
Gropius house is open to the public.
More informations here
- Rietveld Schröder House, Utrecht, Netherlands (1924)
It should come as no surprise that the Rietveld Schröder House has a place on the UNESCO World Heritage List, along with the Waddenzee and the canals of Amsterdam. This architectural masterpiece, based on the ideals of De Stijl, is unrivaled both within and outside the oeuvre of the Utrecht architect and designer Gerrit Thomas Rietveld (1888-1964).
Visit Rietveld Schröder House
Rietveld Schröder House is open to the public.
More informations here
Cover photo: Das Canoas House, Oscar Niemeyer, Rio de Janeiro (1951)