Oxygen was the main source of inspiration for the modular pavilion Ω designed by GG-loop, the architectural practice established in Amsterdam by Giacomo Garziano, in collaboration with Fibreacoustics for the 2018 edition of the art fair UNFAIR.
GG-loop aimed to create a versatile stage for each of the 40 invited artists, providing at the same time an immersive experience for the visitors. The rhythm of the visitor's journey alternating between enclosed and open spaces was inspired by the Giardini of the Venice Biennale and based on the harmonious breathing sequence of inhalation and exhalation that naturally occurs in that place.
As oxygen molecules, the modular shells bond with each other forming a balanced variable ecosystem. They shift following a regular grid generated by the hexagonal tessellation of the historical venue, the Zuiveringshal at the Westerpark in Amsterdam, based on its unveiled precise geometrical proportions.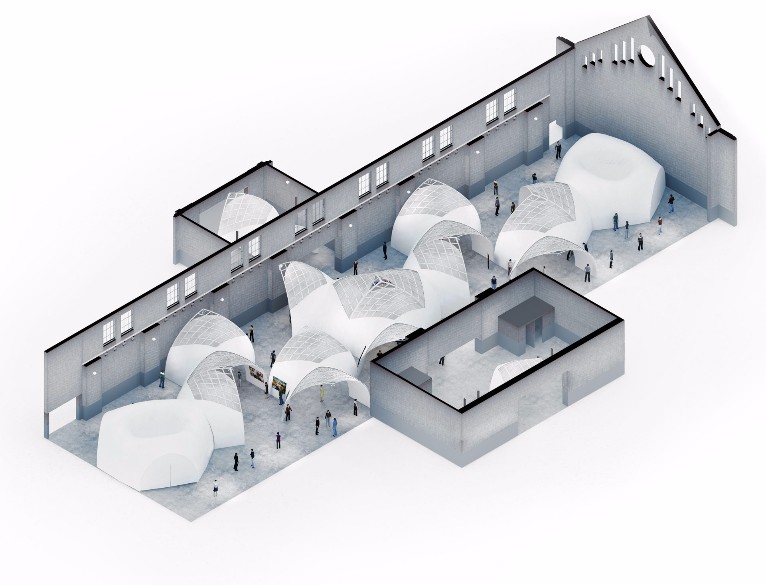 Ⓒ GG-loop
Ⓒ GG-loop
All the materials used for Ω, which stands for Oxygen-18, are highly sustainable and recyclable: the easy to assemble modular pinewood gridshell is covered with recycled coconut and jute fibers, hardened with corn-starch-based bio-plastic and painted with water-based white paint.
The natural look gives the space a warm feel and improves its acoustics due to the porosity of the bio-material, enhancing the immersive cocoon-like experience.
The project explores how contemporary art could go beyond certain constraints of the "standard" displaying. The proposal meant to break these rules and to generate a deeper dialogue between the artist and their stage/space, and to enhance the visitor's experience.
The proposal has been selected in Holland, along with 10 others in view of the Unfair Architect Awards but unluckily, the proposal was not selected amongst the submissions of the 3 shortlisted architecture practices.
Ⓒ GG-loop
Ⓒ GG-loop
Ⓒ GG-loop
Ⓒ GG-loop
Ⓒ GG-loop
Ⓒ GG-loop
Here the 360° video of the project:
Program: installation for UNFAIR 2018 art fair
Client: UNFAIR Amsterdam
Year: 2017
Location: Amsterdam (NL)
Area: 1200 m2
Phase: Unfair architect awards – shortlisted entry
Acoustics and material consultant: Fibreacoustics Ltd - London
Design Team: Luca Alessandrini, Luis Cascales, Giacomo Garziano, Krzysztof Zinger