Until November 26th Venice hosts "Viva Arte Viva", the 57th edition of the Biennale d'Arte curated by Christine Macel.

"Viva Arte Viva is an exclamation, a passionate outcry for art and the state of the artist. Viva Arte Viva is a Biennale designed with artists, by artists and for artists, about the forms they propose, the questions they ask, the practices they develop and the ways of life they choose.
Rather than broaching a single theme, Viva Arte Viva offers a route that moulds the artists' works and a context that favours access and understanding, generating connections, resonances and thoughts" says Christine Macel.

Christine Macel has called it an Exhibition inspired by humanism. This type of humanism is neither focused on an artistic ideal to follow nor is it characterized by the celebration of mankind as beings who can dominate their surroundings. If anything, this humanism, through art, celebrates mankind's ability to avoid being dominated by the powers governing world affairs. These powers, if left to their own devices, can greatly affect the human dimension, in a detrimental sense.
In this type of humanism, the artistic act is contemporaneously an act of resistance, of liberation and of generosity.

Below, some of the most impressive installations.
Julian Charrière, Future Fossil Spaces. Pavilion of the Earth, Arsenale.
Maha Malluh, Food for Thought "Amma Baad". Dionysian Pavilion, Arsenale.
Sheila Hicks, Escalade Beyond Chromatic Lands. Pavilion of Colours, Arsenale.
Liu Jianhua, Square. Pavilion of Time and Infinity, Arsenale.
Claudia Fontes, The Horse Problem.
Bernardo Oyarzun, Werken. Chilean Pavilion, Arsenale.
Juan Javier Salazar, Land of Tomorrow. Peruvian Pavilion, Arsenale.
Giorgio Andreotta Calò, Senza Titolo (La fine del Mondo). Italian Pavilion, Arsenale.
Adelita Husni-Bey, The Reading. Italian Pavilion, Arsenale.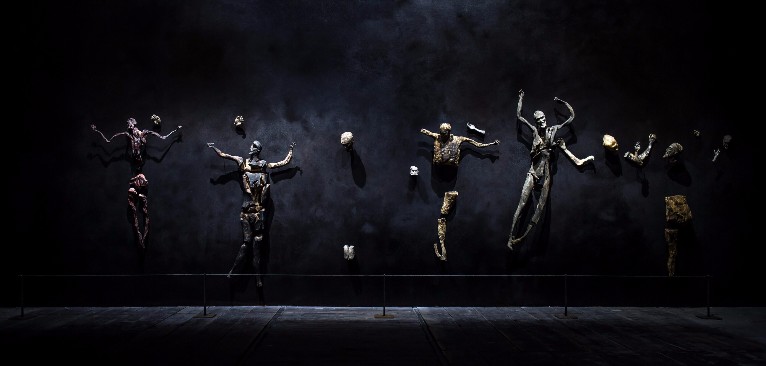 Roberto Cuoghi, Imitazione di Cristo. Italian Pavilion, Arsenale.
Zad Moultaka, ŠamaŠ (Sun Dark Sun). Lebanese Pavilion, Arsenale Nord.
Dana Whabira, Black Sunlight. Zimbabwe Pavilion, Isitituto Provinciale Santa Maria della Pietà, Castello.
Hassan Sharif, Supermarket. Central Pavilion, Giardini.
Siri Aurdal, Mirrored. Nordic Countries Pavilion (Finland, Norway, Sweden), Giardini.
Grisha Bruskin, Scene Change. Russian Pavilion, Giardini.
Takahiro Iwasaki, Turned Upside Down, It's a Forest. Japanese Pavilion, Giardini.
Cody Choi and Lee Wan, Counterbalance: The Stone and the Mountain. Korean Pavilion, Giardini.
Phyllida Barlow, folly. UK Pavilion, Giardini.
Juan Calzadilla, Formas escapándose del marco. Venezuela Pavilion, Giardini.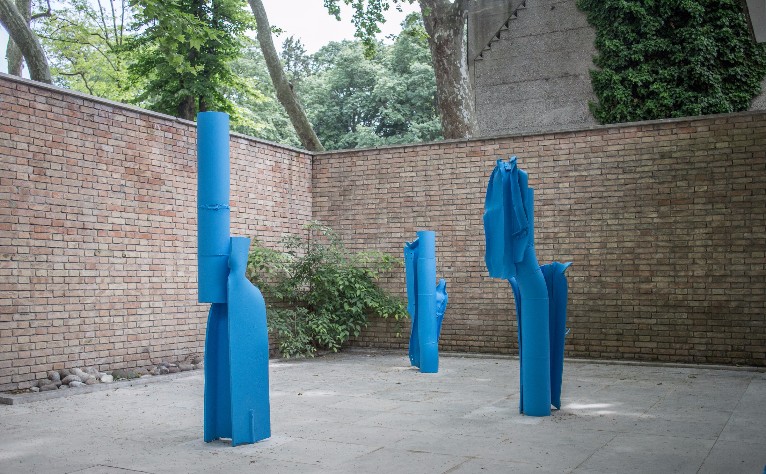 Teresa Hubbard/Alexander Birchler and Carol Bove, Women in Venice. Swiss Pavilion, Giardini.
Brigitte Kowanz, Infinity and Beyond. Austrian Pavilion, Giardini.

Apart from Arsenale and Giardini, the Biennale bursts into the city too. From Michelangelo Pistoletto to Damien Hirts, here are some of the installations you can bump into walking on the streets of Venice.
Lorenzo Quinn, Support. Ca' Sagredo, Venezia.
Damien Hirst, Treasures from the Wreck of the Unbelievable. Palazzo Grassi + Punta della Dogana.
Michelangelo Pistoletto, One and One makes Three. Basilica di San Giorgio, Isola di San Giorgio Maggiore.
Ettore Sottsass, Le stanze del Vetro. Isola di San Giorgio Maggiore.
© afrak87