Cover picture by @pjmattan
September 5th was the last day of this year's edition of Burning Man. During the annual gathering, tens of thousands of people build temporary city Black Rock City in the Black Rock Desert, Nevada, and destroy it eight days after. Participants join the festival pushed by a sense of community, art, self-expression and self-reliance and organize performances, concerts, art installations. There's only one limit to respect: leaving the desert without any trace left when the giant wooden man burns, marking the end of the festival.
Unfortunately, this year the utopian vision of peace and love has been smirched by acts of vandalism against the "White Ocean", the art & sound camp hosting wealthy participants and high profile DJs. The raided camp became the focus of the anger of "purists" burners who oppose the participations of the so-called "rich parasites", millionaires and billionaires who are increasingly taking part in the festival and allegedly betraying the self-reliance spirit inspiring Burning Man since 1986. The sabotage has divided people's opinion between those aspiring to a return to the festival's origins and those who blame the attackers for violating the festival's principle of freedom and inclusion.
I've rounded up here some of the pictures hashtagged on Instagram with #BurningMan2016, which showcase the best art installations put on stage during this year's edition.
Photo by @talmcgowan
Photo by @thurston.chuck
Photo by @bjarkeingels
Photo by @rygmis
Photo by @peterruprecht
Photo by @treyratcliff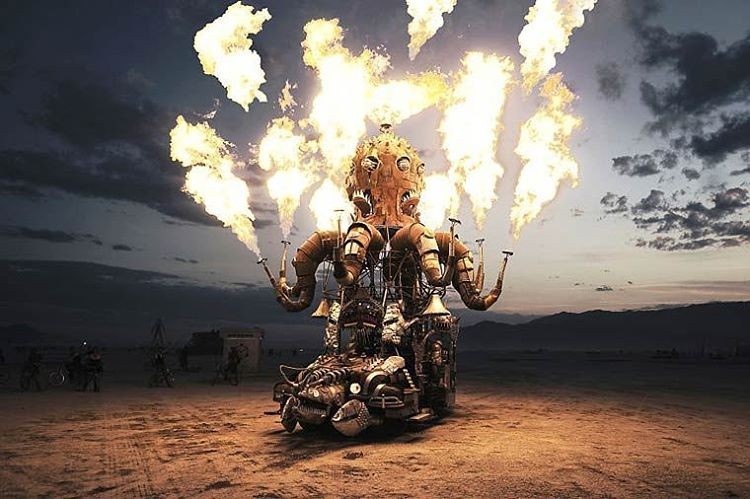 Photo by @dreamskeepers
Photo by @bdowjones12
Photo by @amysarahcooper
Photo by @caroltilford
Photo by @paprikaxu
Photo by @michaelchristianart
Photo by @brianchrist
Want to know more? Search for #BurningMan2016 on Instagram!