Luxurious entryways, marvellous kitchen floors, and lush bathrooms. These are all surfaces where you can commonly see marble tiles. But why don't you use these magnificent natural stone tiles to add a twist on some unexpected surfaces? Here are a few suggestions on how to make your interior more captivating and unusual.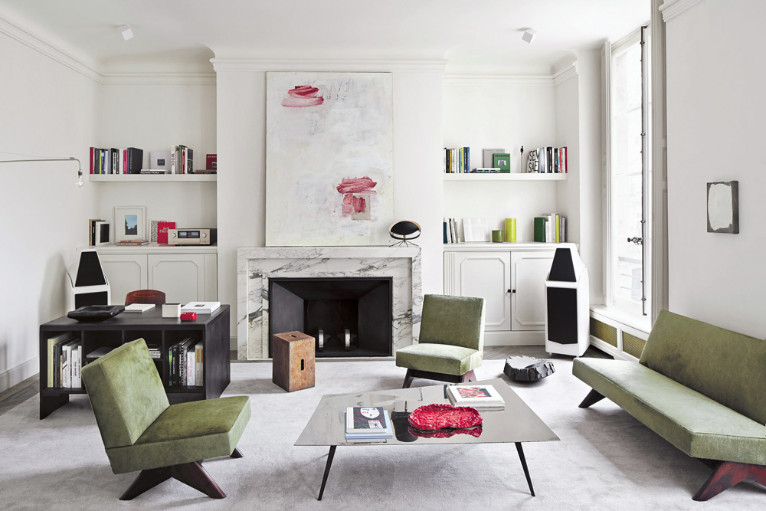 (via NYT Magazine by Simon Watson)
1. Marble Fireplace
Any fireplace would instantly make a room much cosier and feel warmer (even when it's not lit). But what about if the fireplace is made of marble? It will not only be welcoming, the room will have an immediate lush look. A marble fireplace has a timeless appearance making the impression of a stylish mansion. At the same time, marble fireplaces are trendy, so you can combine them with a contemporary interior design as well.
(via StarCrossedSmile)
2. Desk Surface
This is quite an unusual one for me. Just imagine the lush marble desktop - can you wish for a more inspiring workplace? The majestic feel of the natural stone creates the sensation of support and will make any work you do be high-profile. Creatives will find inspiration with ease. Another upside is marble just begs to be exposed, so it will naturally encourage you to keep your workplace clean and tidy. This design trick is also a quite inexpensive way to add the luxurious marble to your décor - depending on your desk size you'll most likely need only a couple larger marble tiles.
(via The Kitchn)
3. Kitchen Countertops
Marble countertops make for a unique, sophisticated atmosphere - the ideal environment for your gourmet masterpieces. Marble can be quite demanding in terms of upkeep. It is prone to absorbing water, which can damage the stone and scratches easily too. Not to mention the white sections of the stone are like magnets for stains. This is why marble should always be sealed (and then resealed after it starts to wear off). And with some daily care and occasional deep cleaning, marble countertops will dazzle your kitchen design.
(via babble.com)
4. Wall Instalments
This one is a real design statement. A marble accent wall immediately attracts all the attention. And doubly so in an unexpected combination of marble wall and wooden floor. If you are after a design stunner in your décor, this is a lovely choice. It can also be budget friendly since you can choose to have just a part of the wall in marble. This is a great choice for the entryway or sections of the wall near the staircase - this guarantees an immediate impact on your visitors.
5. Bedroom Surfaces
Now this speaks "luxury" straight away - marble surfaces in the bedroom. Marble flooring is more common but it would still be extravagant in the bedroom. Although, who would want cold stone under the feet when you get out of bed? However, having marble tops of consoles, shelves and dressers, adds a touch of lush appearance. Again, it is stylish and contemporary, but still has the illusion of living a few centuries back.