Beyoncé has inspired the design for a new building in Melbourne, and honestly, we're not surprised. It was only a matter time before someone built a towering homage to Ms. Queen Bee. Architecture firm Elenberg Fraser's Premier Tower is described as a "vertical cantilever" and features a smooth, voluptuous silhouette: a direct allusion to the sinuous forms seen in the music video for Ghost.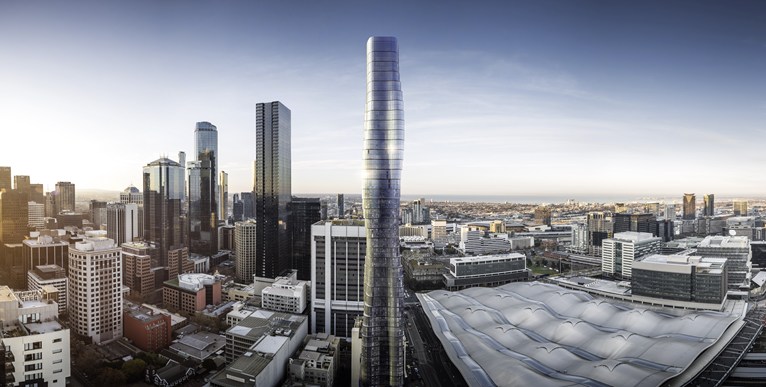 The firm's project summary describes the tower thusly:
"This project is the culmination of our significant research into how to best work with individual site and climatic constraints, brought together using our new parametric modeling techniques. The complex form — a vertical cantilever — is actually the most effective way to redistribute the building's mass, giving the best results in terms of structural dispersion, frequency oscillation and wind requirements. Art and science? You betcha. For those more on the art than science side, we will reveal that the form does pay homage to something more aesthetic - we're going to trust you've seen the music video for Beyoncé's Ghost."
The Premier Tower is a mixed-use structure which will feature retail space, hotel rooms, and apartments. The building, located at 134 Spencer Street, directly across from Southern Cross station, will "be the first thing people see when arriving".
In the past, we've seen architecture inspired by nature, by mathematics…even by literature. But this may be the first time we've seen a structure inspired by a hip hop star's music video. Do we like this fusion of architecture and pop culture? Or is Beyoncé's influence on this structure just a bit too outrageous? We'd love to hear your thoughts.