NEWS _ Prince Harry yesterday announced at Rome's Museo Nazionale delle Arti del XXI Secolo (MAXXI) that the winner of the UK pavilion2015 Milan Expo Design Competition was the team led by Wolfgang Buttress.
The design competition was commissioned by the British Government, to find the best team to showcase Britain's distinctive qualities of creativity and enterprise to the millions of international visitors who will visit the UK Pavilion at Milan.
Buttress' intriguing design features a virtual beehive made of fine steel lattice, with LEDs which glow and pulsate according to signals from a real hive.
The challenge for the teams was to develop a design concept that represented a British take on the Expo theme - Feeding the Planet, Energy for Life.
'This competition ran to a demanding and high-pressure timescale. I was delighted by the commitment and ingenuity shown by the shortlisted teams. The design industry didn't let us down and we're sure that Wolfgang's pavilion will be a huge success, just as Thomas Heatherwick's was.'
Wolfgang Buttress' team included Simmonds Studio,BDP, Slow Food UK, Martin Dewey, Dr Martin Bencsik, John Dorat, Arnia, The Social London, Nick Dewey, Robin Turner, Carl Gosling, Clear Construction Consultants Ltd, Joff + Ollie, Professor Rudi Klein and Paul Smith.
"The concept is to suggest the parallels and intrinsic relationships between bees and humans. Every third mouthful of food we consume has been pollinated by a bee. The world bee population is currently in decline and in poor health; the beehive can be seen as a barometer of the health of the world." said the artis "In this pavilion I wanted to create something quiet which could say a lot with very little. I wanted it be a breath of fresh air, a pause point and place for contemplation within the Expo. I felt the whole pavilion could be an experience and a journey. "
Check the eight teams shortlisted in this fast-track two-stage design competition.
Asif Khan "7.2 Billion people live on this Planet. Can you imagine trying to feed them all?"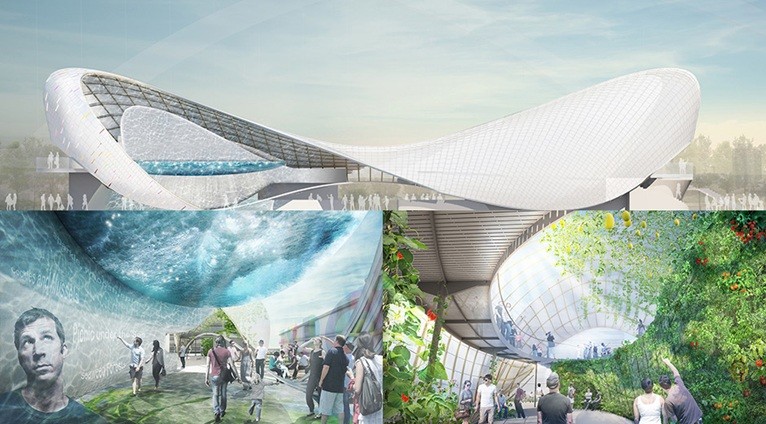 Grant Associates "Our Pavilion is the UK Food Machine and celebrates our island setting within two distinctive, linked environments, Sea and Land."
Paul Cocksedge Studio™"Our design for the UK Pavilion dissolves the border between exterior and interior, creating an overall sense of organic fluidity rather than solid presence. 1,296 re-usable telegraph poles create a ready-made timber forest: a calm and quiet space inviting exploration, and a mystery that takes visitors on a journey to a concealed exhibition area within."
Barber & Osgerby "Reflecting the theme "Grown in Britain, Shared Globally", the Pavilion celebrates how British agriculture, technology and food have positively impacted the world: providing solutions to global problems, sustainably providing more with less, all from field to fork."
Amanda Levete Architects"#silentcurrency uses water as a metaphor to address the questions posed by the Expo Milano 2015."
David Kohn Architects "'Strawberry Fields Forever' tells the remarkable story of how British scientific and technological innovations are benefiting global food production and consumption. "
Allford Hall Monaghan Morris with Studio Myerscough "THINKERS+GROWERS+MAKERS=SHARERS will provide every visitor with inspiration about how they can help to meet the global food challenge. We have created an immersive, memorable and friendly visitor journey based around the four themes of THINKERS + GROWERS + MAKERS = SHARERS celebrating the people and ideas that are leading scientific research, agriculture, food production and food consumption. "
Find more info in http://malcolmreading.co.uk/