Kriskadecor develops customizable solutions that turn any ceiling into a remarkable centerpiece. Parallel structures, concentric round or square compositions create textures and surprising shapes inspired by the natural world: architectural space thus become reflections of their environment, and tell the story of their past and evolution.
Veils that bring to life the coastline of Southampton, evoking the movement of water with elegant translucent waves made of anodized aluminum links, provide any project with color, texture and volume. It's the case of the lobby of the Watermark Westquay Commercial Centre, for which the Australian designer Michelle Taylor required 800 square meters of chain in gold, green, lime and black.
The relationship between design solutions and water is not accidental. Its continuous movement is natural energy, it brings freshness, light and completely changes the image of any space. As with the lobby of the Stora Hotellet in Umeå, Sweden, designed by Stylt Trampoli AB, where the seasonal color green predominates.
The city of Umeå, with its long and proud maritime tradition, inspired the studio to create an atmosphere of contrasts: velvet and canvas, champagne and sea foam. For the ocean to return to the elegant halls of the hotel, the metallic fabric of Kriskadecor was used to create a set of volumes in satin green and bright emerald, among other warm colors.
The sea is also the main protagonist in Tel Aviv. In fact, the Israeli city has one of the oldest natural harbors in the world, Jaffo, used since the Bronze Age. It is not surprising, then, that Klein Associates KG was inspired by the waves of the Mediterranean coast to design the 4-storey hall of Isrotel Royal Beach.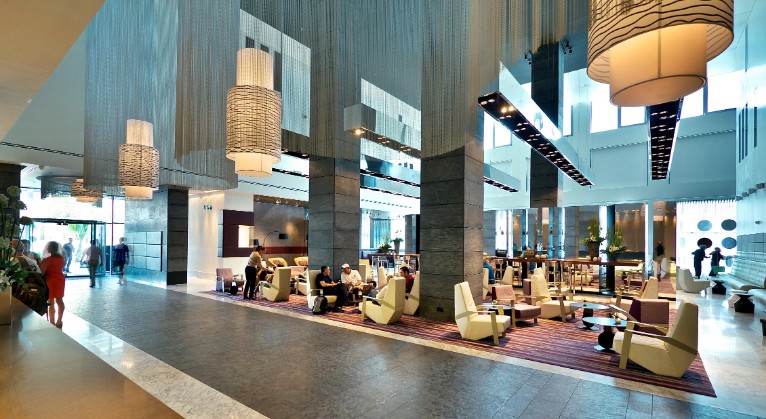 This impressive lobby includes a sinuous and fluid ceiling solution, in satin nickel, hanging from the ceiling along the entire central aisle, enveloping the large lamps. Impossible, in a place like this, not to look up.
Can you imagine being able to reproduce the effect of rain in a project? Kriskadecor has done this too, in the showroom of the bathroom furniture firm Talsee flagshipstore. Burkard Meyer architecture studio, in collaboration with Konform piloted the project.
For the implementation of this creative concept the technical department of Kriskadecor developed a new modular system. Through different chain lengths (the longest measuring 7.80m) it was possible to form a 'rain passage' to separate the different departments of the showroom. The resulting infinite drops of water falling from the ceiling, thanks to selective lighting, achieve an unreal, magical atmosphere.
Kriskadecor creates highly customized projects made with anodised-aluminium links, a light and versatile material. Customization is Kriskadecor' most strong value. The Spanish Company develops projects based in colours, shapes and volumes following customers' needs and desires. Thanks to the patented technology, Kriskadecor reproduces images and patterns combining a wide range of colours in brilliant and satin finishes.
For more informations, click here