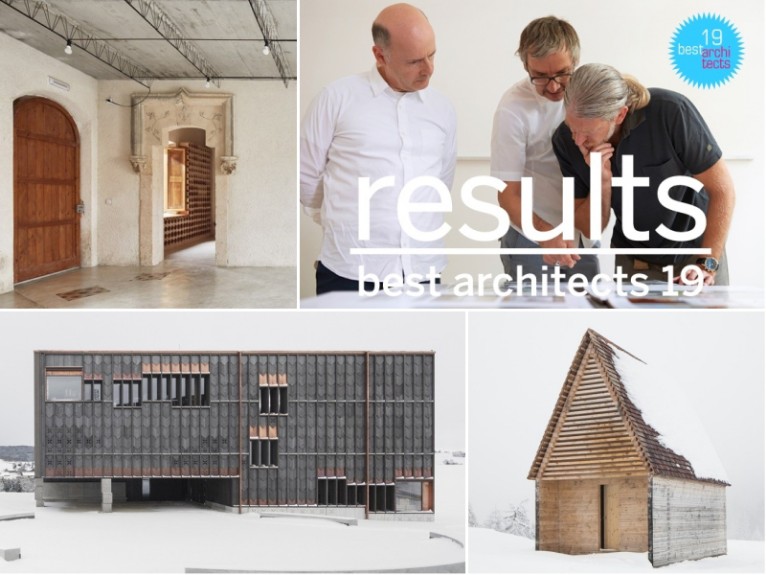 The «best architects 19» Award has been decided.

Among the 361 entries from all over Europe, a large proportion of projects displayed the very highest level of execution. The jury had the pleasure of filtering out the very best from the many excellent works. They thus had the demanding task of seeking not only outstanding solutions to the construction briefs but also that certain something «more» in architecture.

The wide variety of projects distinguished demonstrates impressively that quality is not a question of budget, size or prestige. Rather, quality results from the architects' above-average commitment and enthusiasm – precisely what is honoured with this year's «best architects 19» Award.

«Good architecture creates added value that goes beyond the original brief, critically reflecting on both societal and cultural realities in order to ultimately do more than just what is required: an innovative school layout that generates a stimulating learning environment, an apartment house that not only provides the required residential units but also outdoor spaces that enliven the whole neighbourhood, a construction method that takes up a regional tradition and is able to recreate it using the latest building techniques, a building in which thoughtfully applied architectural resources are coupled with local references to generate historical depth, and not least the ability of the designer to translate all of this into a compelling picture in which inner structure and outward appearance are inseparably linked.» (Raphael Frei, pool Architekten, Zurich).

The jury, comprising Raphael Frei (pool Architekten, Zurich), Thomas Lechner (lp architektur, Altenmarkt/Pg) and Prof. Jonathan Sergison (Sergison Bates architects, London & Zurich) bestowed the «best architects 19» Award on 70 projects.

Another twelve were distinguished for particularly outstanding quality with the label «best architects 19 in gold».

In the category Residential single-family, a gold ranking was bestowed on the projects:
«ELLI» by Holzer Kobler Architects from Zurich (CH)

«Two Cork Houses» by Emiliano Lopez Monica Rivera Arquitectos from Barcelona (ES)

«House on Müseliweg» by Schmid Schärer Architekten from Zurich (CH)

The extraordinarily creative and innovative residential buildings in the category Residential multi-family designed by the working-group:
weberbrunner architekten/soppelsa architekten from Zurich (CH) with their «Hagmannareal Winterthur»

and by Meier Leder Architekten from Baden (CH) with their «Apartment house on Gartenstrasse»

and by Meili & Peter Architekten from Zurich (CH) with their «City West – Zölly Tower» received further gold awards

Also deemed deserving of gold were in the category Education buildings:
the »Erweiterung Oberstufenschulhaus Hunzenschwil« designed by Schmid Schärer Architekten from Zurich (CH)

the «School Port» by Skop from Zurich (CH)

the «School in Orsonnens« by Ted'A arquitectes from Palma de Mallorca (ES)

In the category Other buildings:
Aulets Arquitectes from Palma de Mallorca (ES) won gold with their «Reform of Oenological Station»

Hannes Sampl from Salzburg (A) with the project «Mountain Chapel Kendlbruck»

Another award in gold went to MET Architects from Basel (CH) for their project «School St. Johann» in the category Interior work

The submitted projects provide striking testimony to the diverse directions in which the European architectural scene is developing. Alongside established architecture offices that have enjoyed a high profile for many years with their outstanding buildings, the discovery of as yet lesser-known architects is what makes this award so very exciting. Once again this year, we are seeing a colourful mix of works that demonstrate in a fascinating way all that architecture is capable of.