During Fuorisalone, Milan changes its look for a week.
Design invades the city which becomes stage of installations and parties all dedicated to design, with lots of events taking place, in 7 days, all around Milan.
With this background made of creativity all around, design is linked with the urban pattern of Milan, creating a unique and unseen event.
We've put together 15 not-to-be-missed exhibitions and installations during Milan Design Week 2018!
Check also and download our helpful Archiproducts' Fuorisalone guide!
Archiproducts - the design experience
For the third time at the Milan Design Week, the design hotspot located at via Tortona 31, has made space for totally new collections of 70 international brands exclusively selected for the 2018 edition.
This year's setup has been taking shape thanks to both new as long-lasting collaborations where many different designers have been adding their personal touch. Elisa Ossino Studio, Studio Milo, Christophe de la Fontaine and Aylin Langreuter, Veronica Leali and Matt Lorrain have contributed to the space setup, each focusing on a different area, but all in full synergy with the Art Direction of Archiproducts Milano.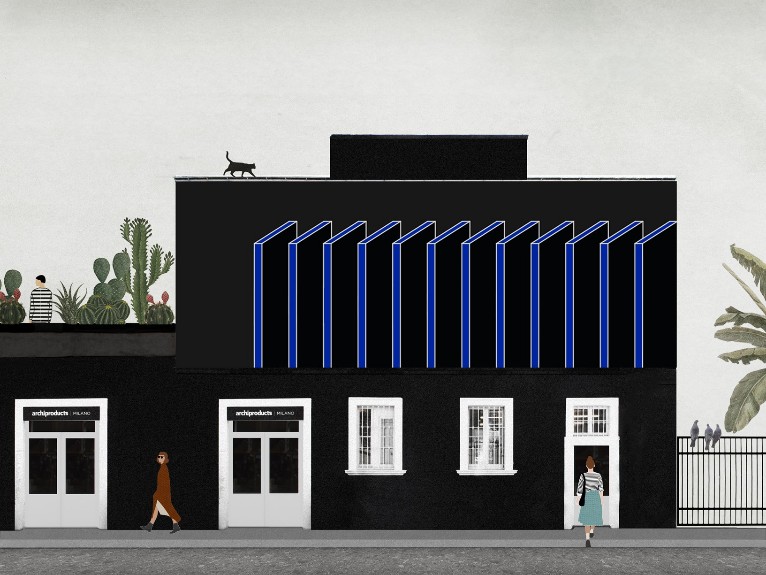 © Elisa Ossino Studio for Archiproducts - the design experience
For the first time this year, passionates and professionals will have the chance to go on a real "Design Tour". Archiproducts will take its guests on a ride throughout the most interesting Fuorisalone locations: on board of the brand new Volkswagen T-Roc, visitors will be able to reach the finest venues highlighted in the Archiproducts Design Selection.
EVENT INFORMATION
"The Design Experience"
Archiproducts Milano
@ Via Tortona 31 – Underground stop: Porta Genova
17-22 April / h10-21
EVENBRITE Link
VENTURA FUTURE
For the 2018 Milan Design Week, Ventura Projects has found a new destination: Ventura Future!
The project will take place in three exceptional locations in the Loreto district: firstly, the doors of Loft, a beautiful Milanese gallery space, and FuturDome, the former meeting place of the Futurist movement, will showcase the future epoch of design. Secondly, there will be the former pharmacy faculty of Viale Abruzzi, an ancient building with an early-century residency style where former students left traces of their labors - students, whom we also welcome as exhibibtors to share with the public the visions of next generation designers.
EVENT INFORMATION
"Ventura Future"
17-22 April 2018
@ FuturDome building, Via Paisiello 6, Milan
More info here
TRAM CORALLO
Cristina Celestino chooses to reinterpret the historic streetcars of the city, imagining an ideal "Cinema Corallo" that will circulate in the Brera district.
Corallo brings on stage a suggestive screening room on rails, an unexpected and evocative place, an authentic travelling salon inside a historic tram from 1928, reinvented in a contemporary way.
The project is inspired by the theme of the journey, as an experience with dream and surreal overtones, that the designer carries within a d'antan cinema set up.
EVENT INFORMATION
"TramCorallo"
@ Piazza Castello 2, Milan
17-22 April 2018
NENDO.FORMS OF MOVEMENT.
One of the most awaited events of the 2018 Fuorisalone is certainly the mega exhibition dedicated to Nendo, a Japanese studio that embodies the genius of Oki Sato.
Over 800 square meters in a mysterious labyrinth, 10 concepts based on the idea of movement, which arises from function, materials and production method.
There will be a display not only of final products but also models and sketches, the perfect way to discover the work and creative process of the most loved design studio in the world.
EVENT INFORMATION
"NENDO.FORMS OF MOVEMENT."
@ Superdesign Show, Superstudio Più
Via Tortona 27, Milan
17-21 April 2018, 10am - 9pm
22 April 2018, 10am - 6pm
BAR ANNE
A cutting edge Show, Bar, Hang Out, Experience, Meet, Greet and Creative hub All in one. A radical new concept where everything and everyone come together: a bar and show combined into one full experience and fun happening. With designers, for designers.
EVENT INFORMATION
"BAR ANNE"
@ Museo Diocesano
Corso Di Porta Ticinese, 95, Milan
17-21 April 2018
RAINBOW DESIGN DISTRICT
Rainbow District Milano - "Inclusion&Inspiration".
EVENT INFORMATION
"RAINBOW DESIGN DISTRICT"
@ Casello Daziario Ovest di Porta Venezia
piazza Guglielmo Oberdan 4, Milan
17-22 April 2018
Gufram restless energy and joie de vivre could not find a better way to explode during the 2018 Milano Design Week.
Truly embedded in the historical pieces that the company has always presented in its trilling and colorful catalogues since the tumultuous and fascinating times of Italian Radical Design, this year Gufram makes everybody dance at Disco Gufram, its own visionary disco.
EVENT INFORMATION
"DISCO GUFRAM"
@ Mediateca Santa Teresa
Via della Moscova 28, Milan
17 -21 April, 2018
VEGAN DESIGN – THE ART OF REDUCTION
The exhibition Vegan Design – Or the Art of Reduction, presented during the Salone del Mobile in the 5Vie circuit, is an opportunity to discover the work of a unique talent of international design.
Each object of Eres Nevi Pana's collections is made in compliance with the rules of a specific ethical position and it gives an answer to a specific question: it is possible to design without using any material from animals? With his work and his strict but emotional approach, Nevi Pana shows that it is possible. Vegan, Israeli, he was born in 1983 and studied at the Eindhoven Academy. He transfers his attitude of respect to life, human beings and nature to his design modalities.
EVENT INFORMATION
"Vegan Design - The Art Of Reduction"
@ 5 Vie / Spazio Sanremo – Via Zecca Vecchia 3, Milan
April 17-22, 2018
HORAH: Choreographies of light
Spazio Krizia continues its design exploration with the Horah exhibition by Shay Alkalay e Yael Mer of Raw Edges. The Israeli designers reflect one the convivial power of light and, in collaboration with Wonderglass,created a series of 30 moving lamps. Horah is a traditional Jewish wedding dance. "Synchronised movement strengthens the power of repetition itself. Synchronised elements are intriguing, fascinating and create emotions, similar to the ones we could feel by watching Horah dancers." Explain the designers.
Image by Spazio Krizia/Raw Edges
EVENT INFORMATION
"HORAH"
@ Spazio Krizia, via Daniele Manin 21, Milan
April 17-22, 2018 - 10am-7pm.
Massimiliano Locatelli | CLS architetti, in collaboration with Italcementi Heidelberg Cement Group, ARUP and Cybe for Milano Design Week 2018, presents a project for a house of 100 square meters, 3d printed on site, at Piazza Cesare Beccaria.
A research project on the possibilities offered by 3d printing in the field of sustainable architecture, responding to the increasingly urgent revolution in the world of housing.
3D HOUSING 05 is a house designed with a new architectural language developed thanks to a revolutionary technology.
EVENT INFORMATION
"3D HOUSING O5"
@ Piazza Cesare Beccaria, Milano
VITRA, LA PELOTA
Paris-based designer Robert Stadler reveals the world of Vitra with Typecasting, a major exhibition featuring 200 iconic designs, prototypes and even flops that never achieved success. Not a didactic or chronological exhibition but a selection of items grouped in more loose and transversal categories such as the "Athletes", the "Spartans" and the "Compulsive Organizers".
EVENT INFORMATION
"Vitra, La Pelota"
@Via Palermo 10, 20121 Milano
17 - 21 April, 2018: 10am - 9pm
22 April, 2018: 10am - 6pm
More informations here
ALCOVA
A former panettone factory reopens its doors for the first time as a design space, featuring experimental pieces by 20 studios and galleries exploring contemporary living, design culture and new technologies. Amid the complex's crumbling surrounds – partly overrun by plants – you'll find objects like Stuperstudio's hot pink Onos bed. The exhibition is put together by Space Caviar and Studio Vedèt.
EVENT INFORMATION
"Alcova"
@ Via Popoli, Milan
April 17-22. 2018 - 11-13
More informations here
Living Nature. La Natura dell'Abitare
This spring, Salone del Mobile.Milano will work with international design and innovation office Carlo Ratti Associati to develop a project that explores the relationship between nature and living, with the aim of fostering a new debate on sustainable design in our homes. "Living Nature. La Natura dell'Abitare" is a garden pavilion where all four seasons coexist with each other at the same time, thanks to an innovative energy management system for climate control.
EVENT INFORMATION
"LIVING NATURE. La Natura dell'Abitare"
@ Piazza Duomo, Milan
April 17-25, 2018
OPEN SKY: Phillip K. Smith III for COS
Swedish fashion brand COS teamed with American artist Phillip K. Smith III to create an immersive installation within Palazzo Isimbardi. The architecture of the XVI century building encounters the changeable nature of the sky in a central sculpture located in the palazzo's courtyard.
"I wanted to bring the sky to the ground, to make it physically present." Explains the artist. "Open Sky is characterised by ever-changing spatial and temporal elements, every visitor's experience of the installation will be entirely individual".
EVENT INFORMATION
"Open Sky"
@ Palazzo Isimbardi, Corso Monforte, 35, Milan
April 17, 20 and 21: 10am – 8pm; April 18 and 19: 10am – 5pm
The home of architect and designer Osvaldo Borsani will open its doors to the public. They can enjoy a rare tour of the Modernist Milanese villa – built between 1939 and 1945 – and its extensive archival collection of drawings, letters and photographs. In celebration of a forthcoming retrospective of his work at Triennale di Milano in May, curator Ambra Medda has also invited New Zealand creatives to design new pieces to enliven the home, which has been unoccupied for a decade.
EVENT INFORMATION
"Villa Borsani: Casa Libera!"
April 16-20 @Via Umberto I, 115, 20814 Varedo MB
More informations here
Cover image: © Elisa Ossino Studio for Archiproducts - the design experience