Colors, lines and geometrical shapes, sometimes modern buildings are little more than structures that protect us from the elements.
With composition, symmetry, contrast and leading lines, photographers or just architecture lovers, capture feelings in beautiful images and immediately basic buildings become sculpture and spaces become paintings. And when the architecture is noteworthy, the results can blow you away!
If you have not yet photographed these architectural spots below, put them on your list and..don't forget to keep hashtagging #archilovers !
1. Cimitero di San Cataldo, Modena, Italy (Aldo Rossi)
At the centre of Rossi's design is a cube-shaped ossuary for housing remains and a conical tower that marks a communal grave. Set within a courtyard on the outskirts of Modena, the ossuary is covered in terracotta-coloured render, while the perimeter buildings that enclose the courtyard feature steely blue roofs.
Ph. © Fabio Bascetta
2. Molitor Hotel e Piscine Molitor, Paris, France (Jean-Philippe Nuel)
From post-war pool for fashionable society, to 20 years of closure when it became an internationally famous site for 'street art', the Piscine Molitor has been an emblematic part of Parisian life for a large part of the 20th century. Throughout the spaces of this new project an artistic expression emerges, that sets up a balanced dialogue with these many references. It is this polymorphic character that gives the project its original and site- specific identity.
Ph. © Alexandre Soria
3. La Muralla Roja, Gibraltar, Spain (Ricardo Bofill)
Within the context of the La Manzanera complex and the combination of cubes in space, the building known as La Muralla Roja on the one hand, embodies a clear reference to the popular architectures of the Arab Mediterranean, in particular to the adobe towers of North Africa, and to a reinterpretation of the Mediterranean tradition of the casbah.
Ph. © Ricardo Bofill Taller de Arquitectura
Ph. © Ricardo Bofill Taller de Arquitectura
4. North Audley Canteen, Mayfair, United Kingdom (Gundry & Ducker)
NAC club was inspired by 1940s Hollywood: emerald velvet seating, cobalt blue floors, pastel pink walls, creamy marble table tops and gold accents.
Ph. © Andrew Meredith
5. Masseria Moroseta, Ostuni, Italy (Andrew Trotter)
As in a traditional farmhouse, everything is set around the central courtyard: the salon and veranda with their views to the sea, the staircase to the roof terrace, and the six rooms and suites on either side, half with private gardens, the other half with private terraces looking out across the fields.
Ph. © Salva Lopez
Ph. © Salva Lopez
6. Tianjin Binhai Library, Tientsin, China (MVRDV)
Terraced bookshelves which echo the form of the sphere create an interior, topographical, landscape whose contours reach out and wrap around the façade.The futuristic library sits within a sheltered gallery, topped with cathedral-like vaulted arches, which winds its way throughout the scheme.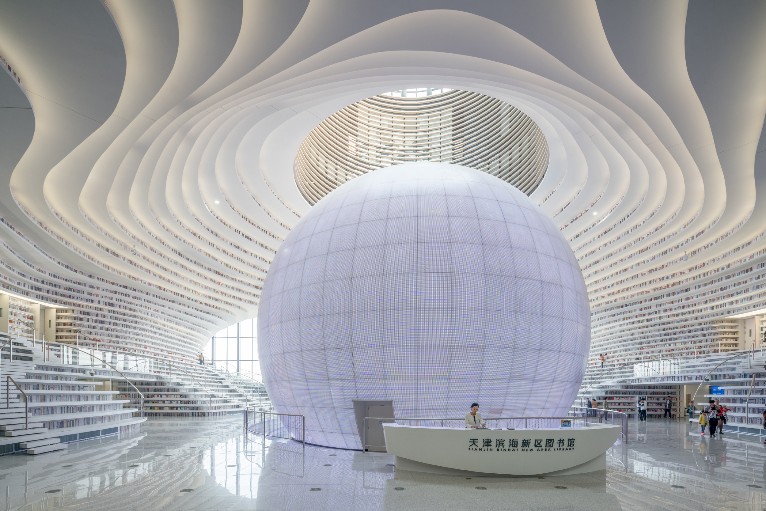 Ph. © Ossip van Duivenbode
7. Fondazione Prada, Milan, Italy (OMA)
The new Fondazione Prada is projected in a former industrial complex too, but one with an unusual diversity of spatial environments. To this repertoire, we are adding three new buildings, a large exhibition pavilion, a tower, and a cinema, so that the new Fondazione Prada represents a genuine collection of architectural spaces in addition to its holdings in art.
Ph. © Bas Princen 2015, Courtesy Fondazione Prada
8. Casa Vicens, Barcelona, Spain (Antoni Gaudí, restoration by Martínez Lapeña - Torres Arquitectos, DAW Office)
Casa Vicens represents the first flush of modernisme in Barcelona. It is a gateway to the Gràcia district and the history of Barcelona and an embodiment of the zeitgeist of the place in which it was built. Casa Vicens is the cradle of a universal style that combined techniques and inspirations of Catalan, Islamic, Japanese, Chinese, Mudéjar, Mozarabic, Roman and English origins.
Ph. © Pol Viladoms
9. Teshima Art Museum, Kumagaya, Japan (Ryue Nishizawa)
Teshima Art Museum stands on a hill on the island of Teshima overlooking the Seto Inland Sea. The museum, which resembles a water droplet at the moment of landing, is located in the corner of a rice terrace that was restored in collaboration with local residents.
Structurally, the building consists of a concrete shell, devoid of pillars, coving a space 40 by 60 meters and with a maximum height of 4.5 meters. Two oval openings in the shell allow wind, sounds, and light of the world outside into this organic space where nature and architecture intimately interconnect. In the interior space, water continuously springs from the ground in a day long motion. This setting, in which nature, art and architecture come together with such limitless harmony, conjures an infinite array of impressions with the passage of seasons and the flow of time.
Ph. © Mohamed Somji
10. Louvre Abu Dhabi, Abu Dhabi, UAE (Ateliers Jean Nouvel)
Combining modern architecture and inspiration drawn from the region's traditions, the design reflects the desire to create a universal museum in which all cultures are brought together.Situated on the Saadiyat Island, the Louvre Abu Dhabi is poised between sand and sea. Providing a haven of coolness, the building forms a place of shade during the day and 'an oasis of light under a spangled dome' at night.
Cover photo: San Cataldo Cemetery, Modena (Aldo Rossi), Ph © Fabio Bascetta