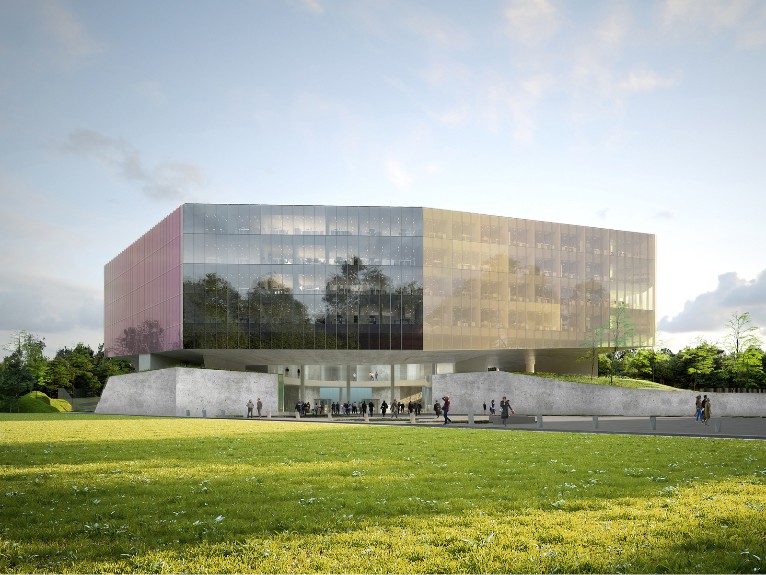 OMA - Office for Metropolitan Architecture has been selected as the winner of four finalists who submitted designs for the new palais de justice (courthouse) in Lille, France.
Set to be completed by 2023, the Palais de Justice is the first project for Rem Koolhaas and OMA in Lille since they masterplanned Euralille and designed the the egg-shaped Congrexpo, completed in 1994. While those projects are situated next to the city's TGV station, the Palais de Justice will be located on the outskirts of the city, near the historic Vauban fortifications.
Image courtesy © OMA
The new courthouse will house the high court and district court of Lille within a colorful, multi-faceted building that will be able to address a wide range of different elements from the city's past and present.
Public services and the major courtrooms will be located at the building base, while minor courtrooms and supporting spaces will be contained within a central, triangularly-shaped tower. A ring of offices floating over the base will surrounding the tower, offset to allow natural light to pass through the building.
Image courtesy © OMA
Each of the three core volumes will be uniquely represented in material and detail, while interiors spaces will stress the importance of comfort and transparency in the judicial process.
Image courtesy © OMA
"The interiors of each of the building's components are conceived to make all the procedures of justice accessible, even inviting, free of the intimidation that has traditionally been the main characteristic of the architecture of justice," explain the architects.
Image courtesy © OMA
Visit OMA's profile to see more of the Palais de Justice