For the second part of the research programme related to the Fondo Luigi Ghirri, the Fondazione Querini Stampalia has envisaged a project focussing on photography and sculpture, creating a new opportunity for development between artistic languages.

After the 2015 Paesaggi d'aria: Luigi Ghirri and Yona Friedman exhibition, which
saw the work of the Emilia Romagna photographer resonate with the famous
Hungarian architect's visionary theory, this year the invitation was accepted by a
great master of contemporary sculpture, Paolo Icaro.
The Turin sculptor views architecture as the exploration of a place. His works are
intimate constructions, memories which trace the coordinates of a possibility of living, of portable landscapes.
This possibility is created thanks to minimal iron and stone elements which work with flexibility and fragmentation, stability and collapse. His structures evoke a mental spatiality which is the recollection of places, a subject dear to Luigi Ghirri's photos in which everyday experiences become mythology.
Luigi Ghirri examines the landscape with the aim of obtaining a result that is far from the stereotype of a tourist illustration, going in search of signs and traces of the place's history and "memory zones", which only the imagination can evoke in the present.
The exhibition in the Scarpa Area of the Fondazione Querini Stampalia will display
the private landscapes of these two artists, selecting works from Ghirri's Profilo
delle nuvole (1989) to hang alongside works specially chosen by Icaro from his
output from the 1960s until the present.
The relationship with sculpture opens photography up to a more intense dialogue with the exhibition space and permits a direct relationship between the two artists with Carlo Scarpa's architecture, a visual extension and a landscape in itself within which the emotive idea of making a place "in the flow of time" is arranged. A work Icaro created specifically for the 'Column Room' in the Carlo Scarpa Area will be presented at the exhibition.
The exhibition has been organised together with Galleria P420 in Bologna with the
support of the Galleria Massimo Minini in Brescia.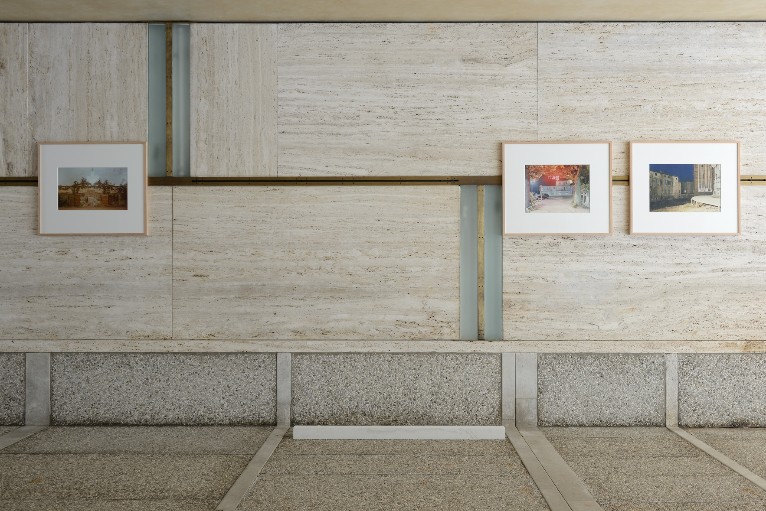 Images by Michele Sereni
To find out more: www.querinistampalia.org