Approximately 15-minute walk from the Nihonbashi exit the Tokyo Station of JR Tokaido Shinkansen, a skinny red building stands on a street corner of Tokyo, it's a long-established one-stop shop for washoku's essential "dashi".
YAGICHO-HONTEN – this is the name of the shop – has a 280-year history of selling traditional Japanese dried foods including katsuobushi (dried bonito), konbu (kelp), and shiitake (Japanese mushroom) – the three basic ingredients that are used to make dashi, a soup stock that forms the base of Japanese cuisine.
If you are Japanese food and architecture lovers...Well, it's worth checking out!
Measuring just 3.65 metres wide, the store has been completely renovated by Tokyo-based studio Schemata Architects, which decided to painting the interior the same colour as the building's original red facade. "Observing that the red resembles the colour of dried bonito, we decided to use it as the base colour representing Yagicho's identity," explained Schemata Architects.
Positioned on a street corner, the shop benefits from two glazed facades with large doors that can be opened up to the street. The architects said, "On sunny days, the store opens all doors and closely connects itself to the city. People constantly flow in and out, while generating a vibrant atmosphere spreading to the city."
Photo by ©Kenya Chiba
A series of copper water pipes snake across the store's ceiling and down into the central island, where there is a sink for food preparation.
A bespoke lighting fixture made also made from copper tubing sits alongside the water pipes, while a series of tables and stools provide a seating area where guests can sample the soup.
The wooden boxes for display in the main store space are also in the same red colour, these were placed in stacks to create a space resembling a marketplace.
Photo by ©Kenya Chiba
©Kenya Chiba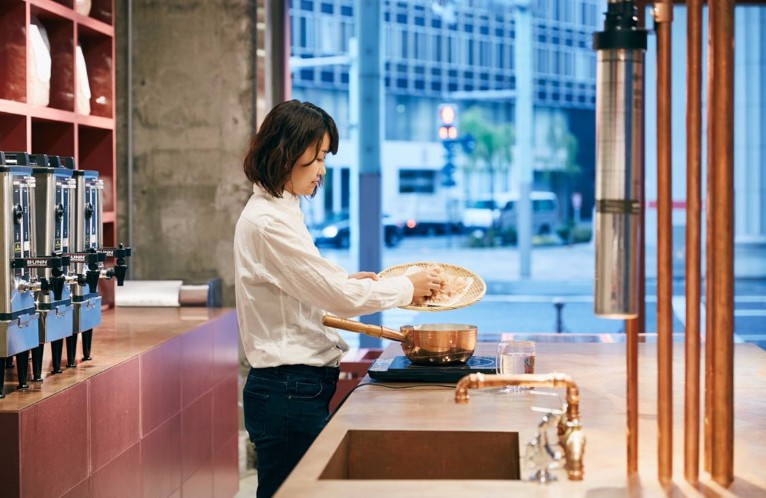 Photo by ©Kenya Chiba
Schemata Architects has designed interiors for a number of retail stores across Japan. Last year, the studio completed the design of a Tokyo coffee shop that uses plywood panels to conceal storage, as well as the renovation of a Japanese eyewear brand's store in Ageo, Saitama Prefecture, where walls were removed to create a more open-plan and welcoming space.