Hamburg has a new cultural landmark: the Elbphilharmonie, designed by Herzog & de Meuron, officially opened on Wednesday 11 January 2017 in Hamburg's HafenCity, after 15 years in the making.




On the banks of the river Elbe on approx. 1,700 reinforced concrete piles a building complex has emerged, which, in addition to three concert halls, will encompass a hotel, 45 private apartments, and the publicly accessible Plaza with a 360° panoramic view of the city.
The centrepiece of the Elbphilharmonie is also one of the most exciting structural challenges in Europe at the moment: A world-class concert hall at a height of 50 metres with seating for 2,100, which is decoupled from the rest of the building for soundproofing reasons. The Elbphilharmonie is the perfect symbiosis of architecture and music at a unique site within the historic city port.
The interplay between the archaic appearance of the former warehouse known as the Kaispeicher A and the bold curve of the dazzling glass corpus is the architectural calling card of the Elbphilharmonie. Old and new conjoin in an exciting synthesis. Between the warehouse and the new construction there is an area accessible to the public, the Plaza. Nowhere else is the link between the docks and the city revealed as impressively as here. Visitors will be treated to a unique 360° panoramic view of the city from a height of 37 meters.
Measuring about 4,000 square metres, the Plaza is almost as big as the one in front of the Town Hall and is an ideal place for Hamburg's citizens and tourists, concertgoers and hotel guests to stroll.
On the outside, there is a walkway around the entire building.
On the inside are the foyers leading to the Grand Hall and the Recital Hall, a café and the hotel lobby.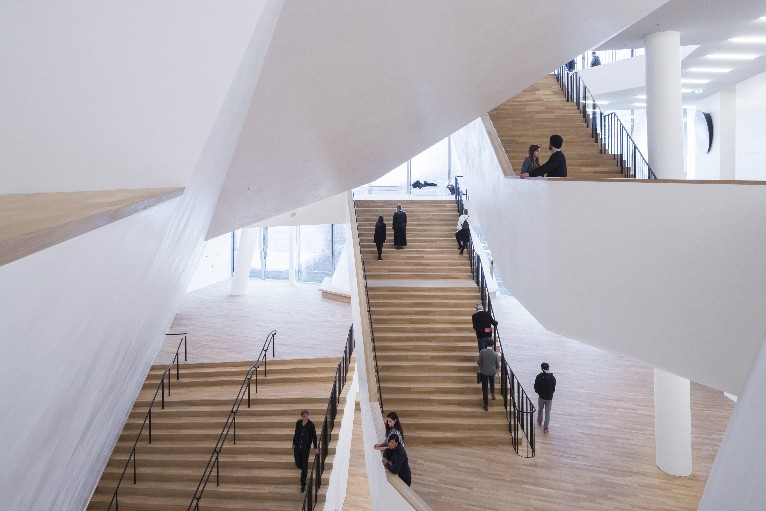 The Plaza will be accessible to any visitor, with or without a concert ticket! The Kaispeicher A itself will be used as a multi-storey car park with approx. 500 spaces. It also houses the spa facilities and conference rooms of the hotel, the music education area, several backstage rooms, and, not least of all, the third auditorium with seating for approx. 170. All this is contained within one building, whose impressive entrance is reached via an 82-metre long escalator. The escalator has a concave arch so its end cannot be seen from the beginning. The visitor is thus immersed into a glowing spherical tunnel. Glass sequins that reflect and refract the lights set the mood for the special ambience of this building.
Read the full press release here