The prestigious Golden Key Design Award ceremony took place at the Mikser House on Thursday November 12th. Awards were given to the best exhibitors who demonstrated innovation in the furniture design field. Among them is the manufacturer Prostoria from Croatia, for the "Strain" chair designed by young and perceptive designer Simon Morasi Pipercic.
The Jury was composed by international experts and designers, Mr. Miha Klinar (Gigo Design, Slovenia), president of the Jury, Mrs. Vesna Pejovic (Kako.Ko Design Studio, Serbia), Mr. Nikola Radeljkovic (Numen / For Use, Croatia) and Mr. Matteo Zorzenoni from Italy.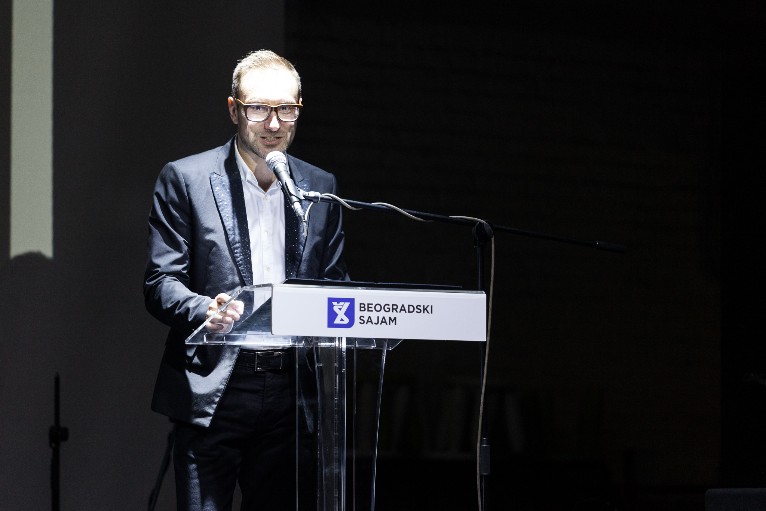 The main judging criteria was focused on user experience, quality and innovation rather than on product form. Mr. Klinar said that now, in design field, being "good" is not enough, you need to be excellent to exist on the international market and global design scene. Also, the member of the Jury Mr. Nikola Radeljkovic said at the ceremony that Belgrade Furniture Fair has made a big step forward in organisation, selection and presentation. In the category of seating furniture - chairs, the Golden Key was awarded to manufacturer Prostoria from Croatia for the chair, "Strain", designed by Simon Morasi Pipercic.

When it comes to the Kitchen Furniture and Dining Items category, the winner was Artisan from Bosnia and Herzegovina for the "Invito Collection" composed of the table, chair and bench, designed by Michael Schneider. In the category of Home Furniture - beds, sofas, and armchair were nominated Catra Home from Serbia, for the sofa "Feuille" and Natuzzi from Italy, for the upholstered armchair "Re-Vive". The Golden Key in the Contract category was won by producer Ton from Czech Republic, for the "Split" chair, designed by Arik Levy. In the same category, producer Pedrali from Italy was nominated for the "Babila" chair.

In the Office Furniture category, young Serbian designer, Danko Radulovic was nominated for his innovative Ergonomically Optimised Working Unit.

During the ceremony Mr. Matteo Zorzenoni mentioned that he noticed at the Fair a few excellent and lot of good producers who care about quality and fight for each product detail and that is what international customers and buyers are now searching for, while Mrs. Pejovic underlined how young designers from this Balkan area should have more courage to "knock" on the producers door and at the same time the producers should be more opened to develop innovative ideas.

Mr. Zoran Jedrejcic, art director of the Belgrade Furniture Fair was convinced that this Fair edition was just a beginning of Balkan Design cultural, professional and economical growth and good direction for years to come.

Minister of Economy Mr. Zeljko Sertic opened on November 10th the 53rd Belgrade Furniture Fair, which welcomed 350 exhibitors from 15 countries, more than 60.000 visitors and about 8.000 specialised domestic and international buyers.